ELDS

Our activities include:
Story-telling
Stage Acting
Script Writing
Props making
'Live' Broadcasting
Values-In-Action 2016
Our ELDS members visited the Christalite Methodist Home at Woodlands for a Value-In-Action trip to give back to the community. We engaged the residents who suffer from psychiatric illness which includes dementia, wheel chair bound aged residents and the aged who require special care in their diet and/or nursing care through sing-a-long community songs sessions. We wanted to benefit the talents from all our members and the enthusiasm our members have to entertain the residents. It was a very enriching trip that allowed our members to interact with the residents through community songs.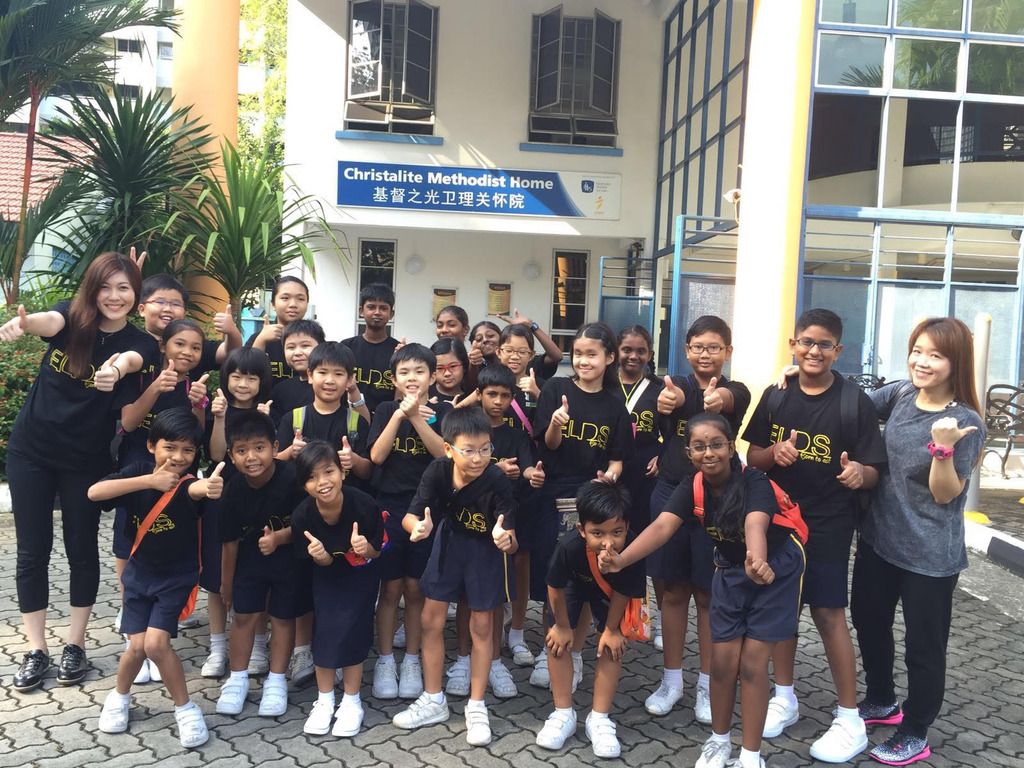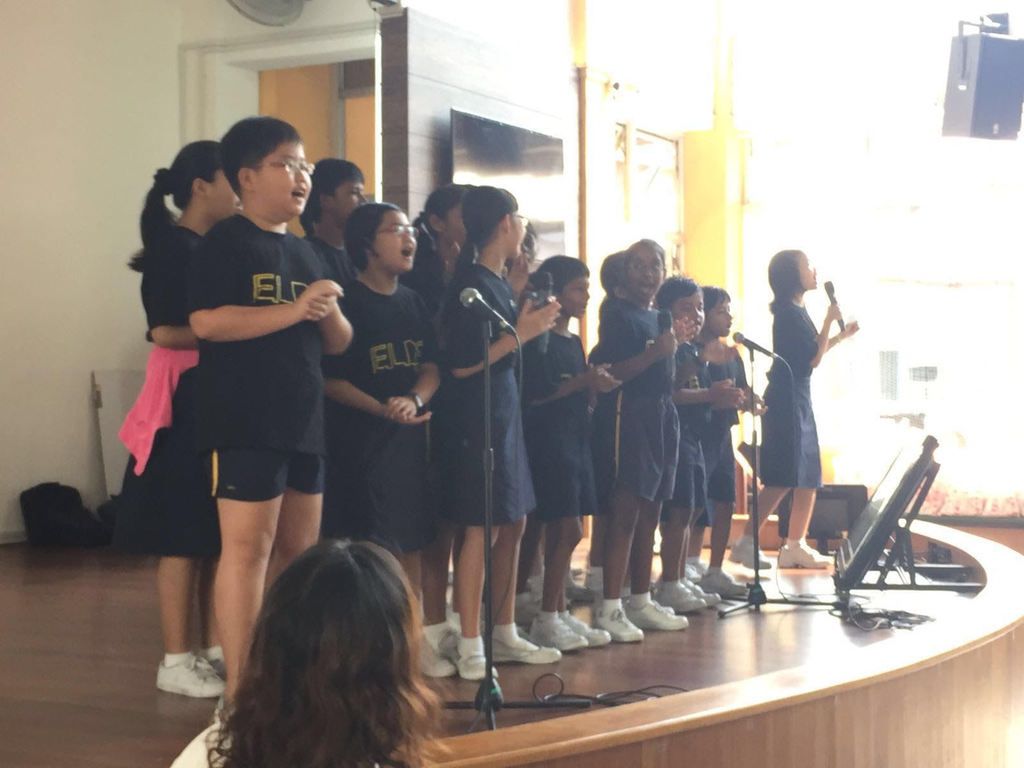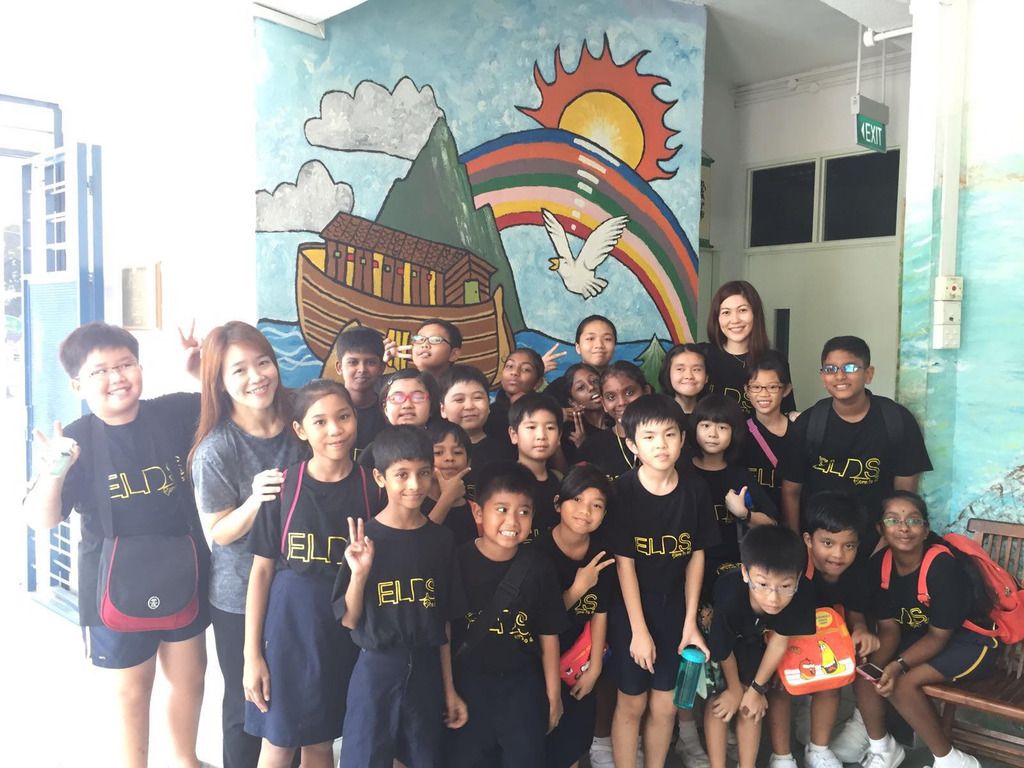 International Friendship Day
Our school commemorated International Friendship Day on 7 April 2016. ELDS put up a performance during morning and afternoon assembly in conjunction to this day. The 7 minutes skit which is scripted and directed by Mr Adib is about how friends of different nationalities should show care and love for one another, regardless of language and culture.
If you missed us in action, go ahead a click on the link below and watch our primary 3 members, being first time on stage, in action!
National Story Challenge 2016
8 of our school ELDS members were selected to participate in The National Story Challenge. The National Story Challenge Tournament is an original improvisational storytelling competition created by The Theatre Practice, and open to students in all primary and secondary schools.
We have been participating for 3 consecutive years and this year, one team, namely, (from left to right) Gwen 4JO, Maha 5GR, Siti 5DI and Bhanaviya 6KI, finally moved on to the Semifinals being top 18 schools out of 79 schools during the preliminaries.
Although we were not shortlist to be a finalist for the competiton, we have unlocked a new achievement and milestone for our CCA. BRAVO TEAM!
CCA Open House 2016
We had our 2016 CCA Open House on Friday 15 January 2016 to showcase elds offerings as well as to recruit new members to nurture interest, develop talent, cultivate zest for life, strengthen friendship and build character in our CCA. We would like to extend our thanks to all parents and pupils who came to witness us in action as well as dropping by our booth to enquire further about GMSP ELDS.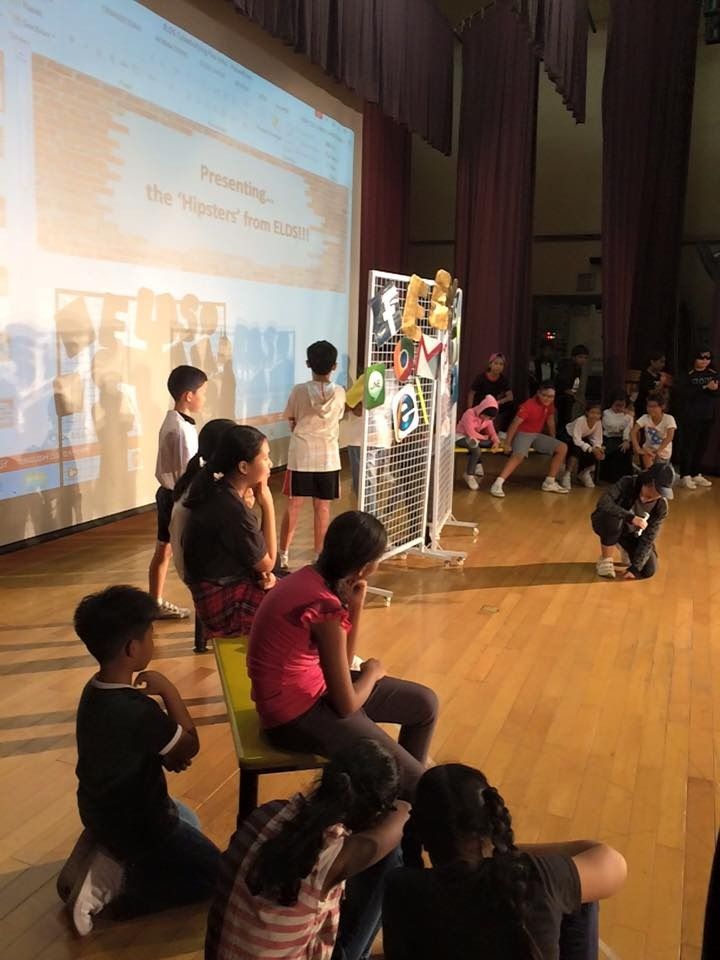 Backstage preview prior to performing
To all new members, we look forward to meet and work with you on
Friday 12 February 2016.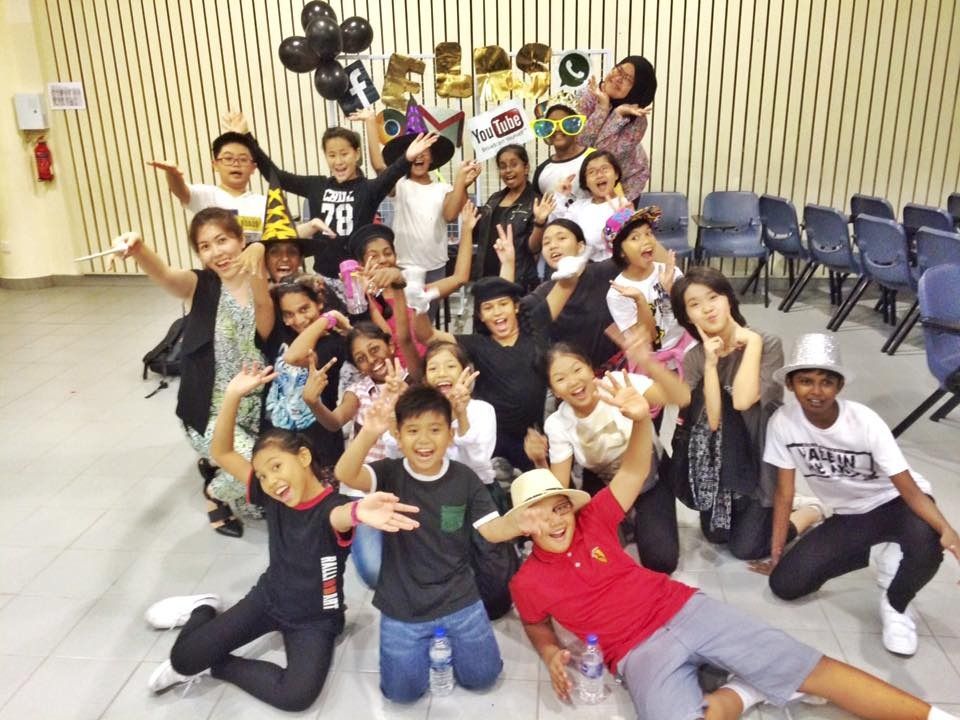 Watch this space for updates of our upcoming performance in April!
Exposure Trip 2015 : The Cat in The Hat
Every year, we bring our dedicated ELDS to watch theatre productions with the following objectives:
1) to have a different perspective as an actor ascompared to an audience.
2) to expose pupil of different theatres available in Singapore
3) to garner ideas and gain experience to know the different type of drama performances.
This year, we brought all ELDS members to Singapore Repertory Theatre to watch Dr Seuss' The Cat in the Hat. Based on the all-time favourite book by Dr. Seuss, The Cat in the Hat has been developed into a magically witty play by Britain's National Theatre, which is faithfully reproduced by SRT's The Little Company.
The show is about Sally and her brother, who get a surprise visit from the Cat in the Hat.The Cat's endless tricks and crazy ideas turned the dull rainy afternoon into one amazing adventure. Our pupils truly enjoyed the show and have gain valuable tips and ideas during our reflection together.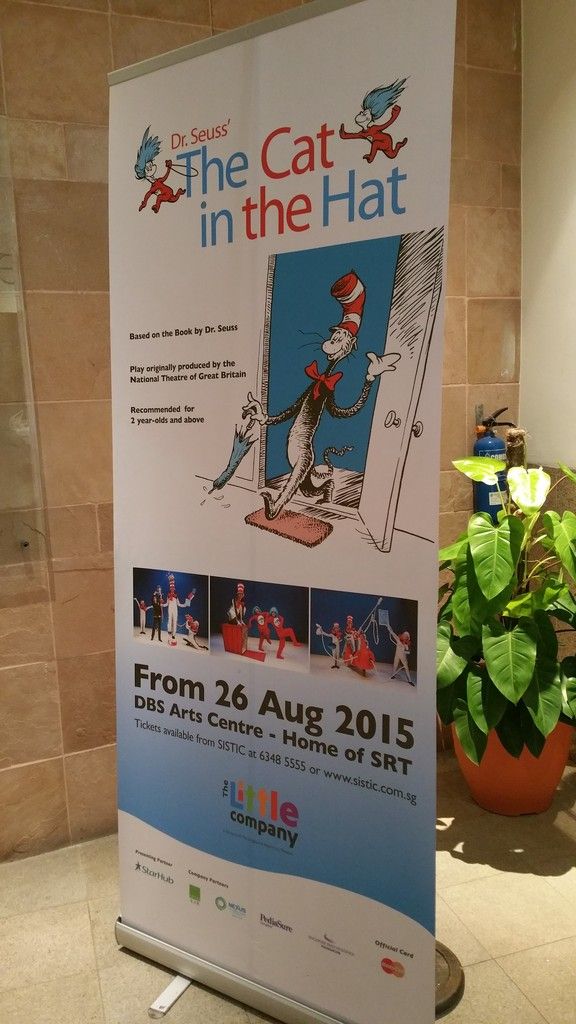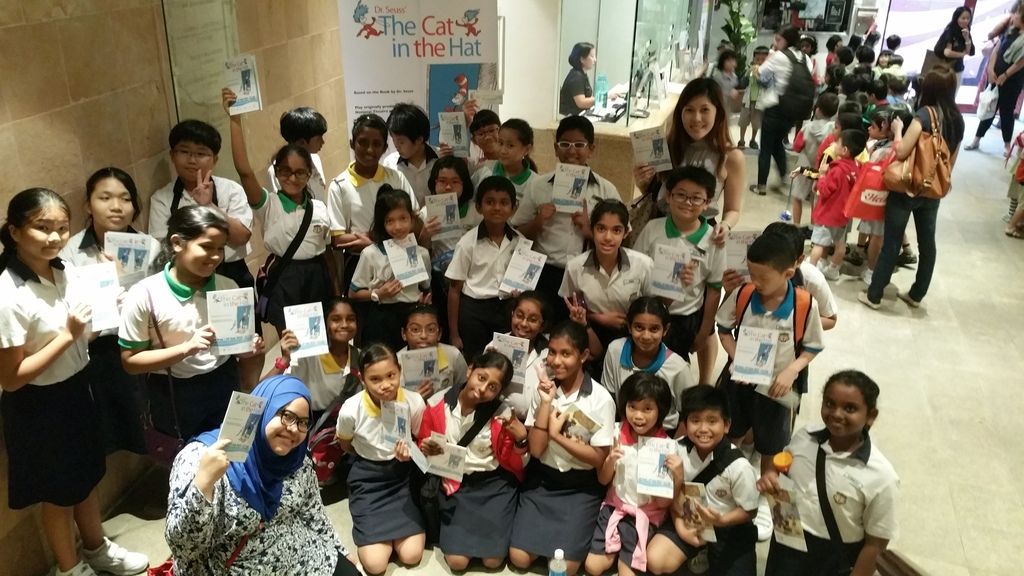 Cyber-wellness Performance
Our ELDS members performed a cyber-wellness rap on 25 May 2015 during morning assembly. The rap was written by the pupils for the pupil population to speak about how they really feel about cyber-bullying. In view of the upcoming school holiday, the performance was intended to remind the pupils about cyber-safety and the right attitude and etiquette to have while being online. The rap also help to informed cyber bully victims on their next step of action and to whom they can ask for help,. The music accompaniment for their rap was also set by the pupils using Garage Band, an application that the pupils learnt to use during their Music lesson.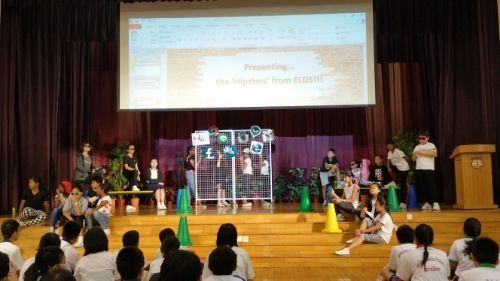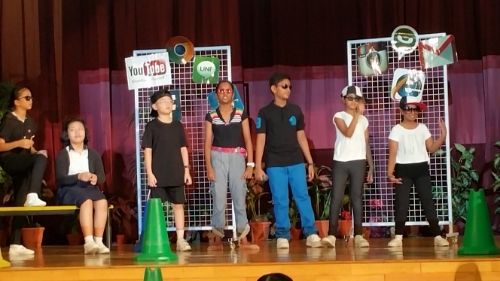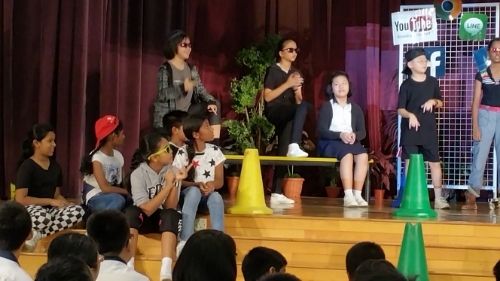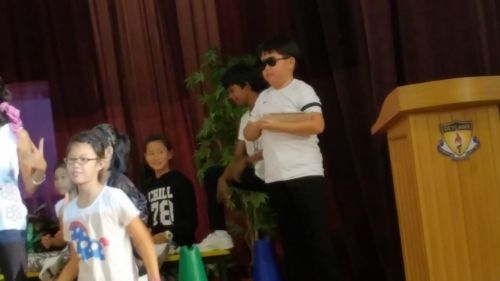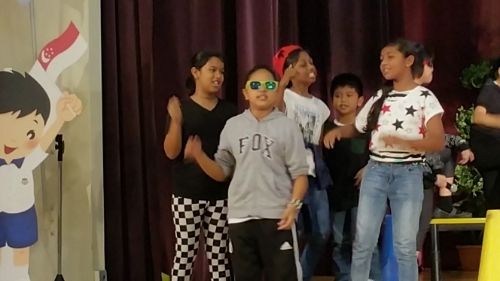 Here is the link to our video. Enjoy!
https://youtu.be/_AJ3WeZjdcc
International Science Drama Competition 2015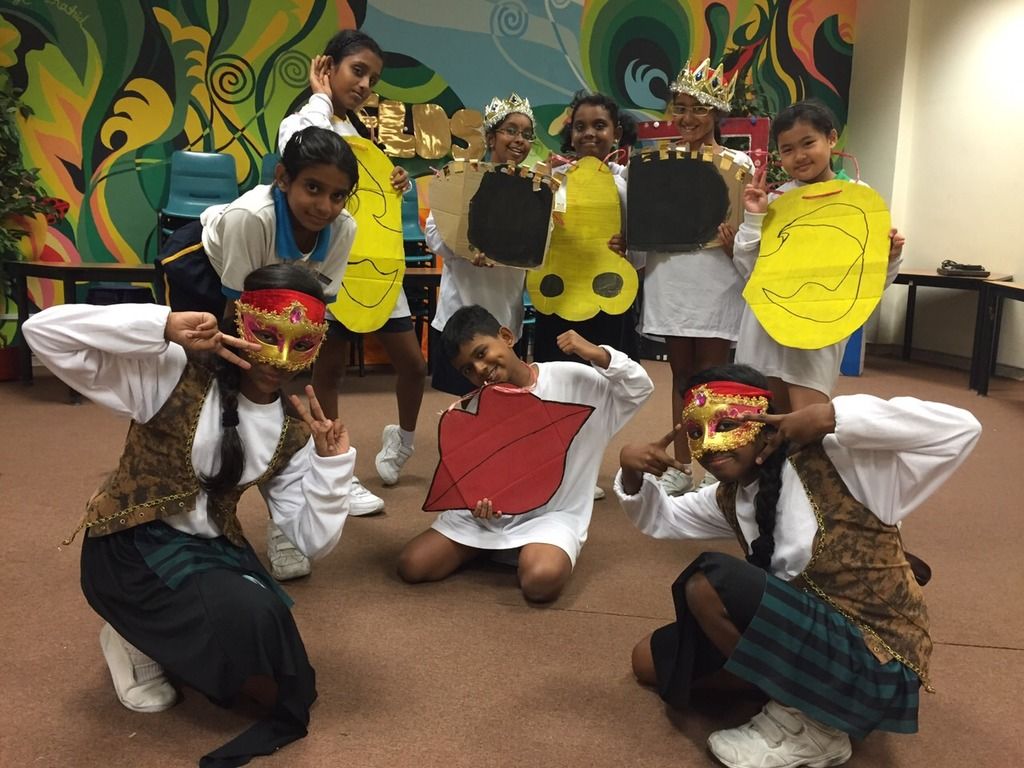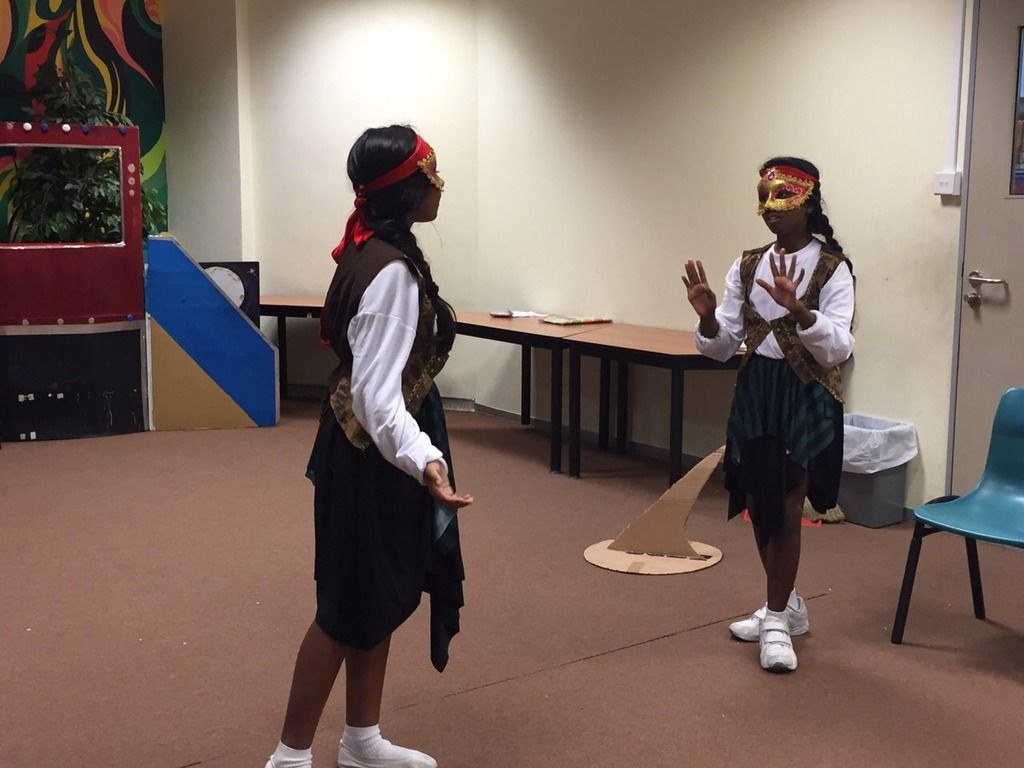 Previously known as SSYSF Stage Drama Competition, this year, it is known as International Science Drama Competition. Competition rules and objectives remain the same: pupils are to combine scientific knowledge with dramatic flair and put up a 7 minute performance. The theme for this year is based on "It's all about lights!",
commemorating 2015 as the International Year of Light.
Click on this link to watch our performance
National Story Challenge 2015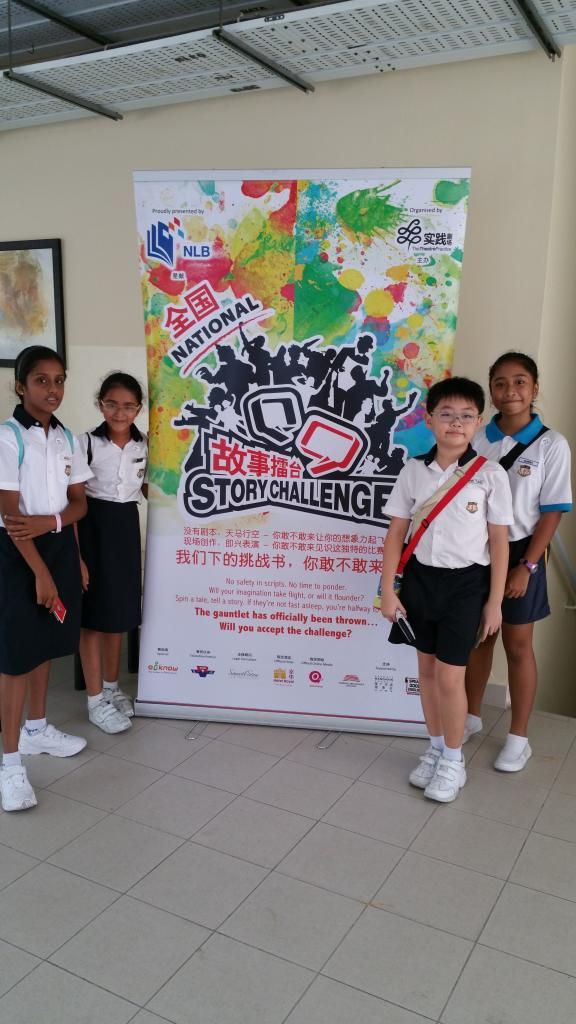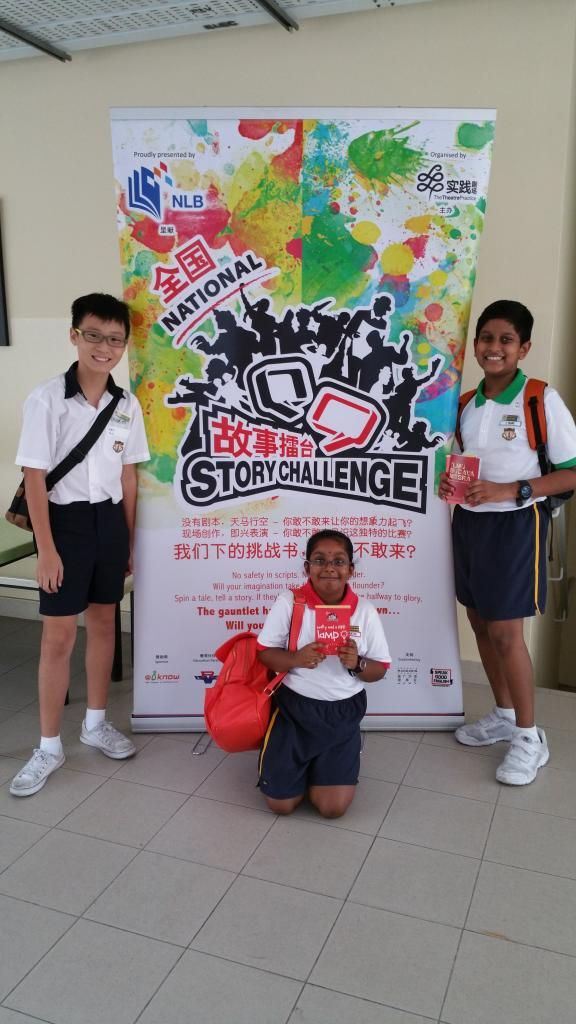 Left picture: (from left) Swetha, Bhanaviya, Devin and Aliffah
Right picture: (from left) Koor Jaye, Narmatha, Tejas
The National Story Challenge Tournament is an original improvisational storytelling competition created by The Theatre Practice, and open to students in all primary and secondary schools.The National Story Challenge is so named because it demands versatility from Challengers. From cognition to creativity, to cooperation in Team categories, The National Story Challenge draws from a wide array of skill sets. Furthermore,the tournament hopes to promote eloquence and a healthy interest in language.
This is the second year ELDS participated in this competition. Although we were unable to progress further than the preliminaries round, our pupils put up a lot of courage and determination as they compete with 58 other schools, nation wide.
We hope, in future, to expose more of our members to this competition, with guidance from pupils whom had participated in the previous years.
Total Defence Day 2015
Total Defence Day is on 15 February 2015, but our school commemorated Total Defence Day on Friday 13 February 2015.

The theme for this year's Total Defence Day is "Our SAF: Giving Strength to our Nation". This year, we are also commemorating SAF's 50th year in Singapore.
2015 marks 50 years of both Singapore's independence and the formation of the Singapore Armed Forces (SAF). As a cornerstone of Singapore's past, present and future story, the SAF is an enduring influence on our way of life. The impact of the SAF is seen in the Singapore story: from the prosperity of the thriving economy, to the social harmony across the heartlands, the SAF is the nation's inner strength. While we pay tribute to the SAF men and women for doing what they do to safeguard Singapore's security, we must remember that the responsibility of defending Singapore lies not just with the SAF but also with each and every Singaporean. We need to harness the strength that is in all of us, to play our part in Total Defence because Singapore is our home, and is worth defending.
Our Primary 6 ELDS made their last school assembly performance of a skit that showcase National Service and the life every Singaporean sons go through.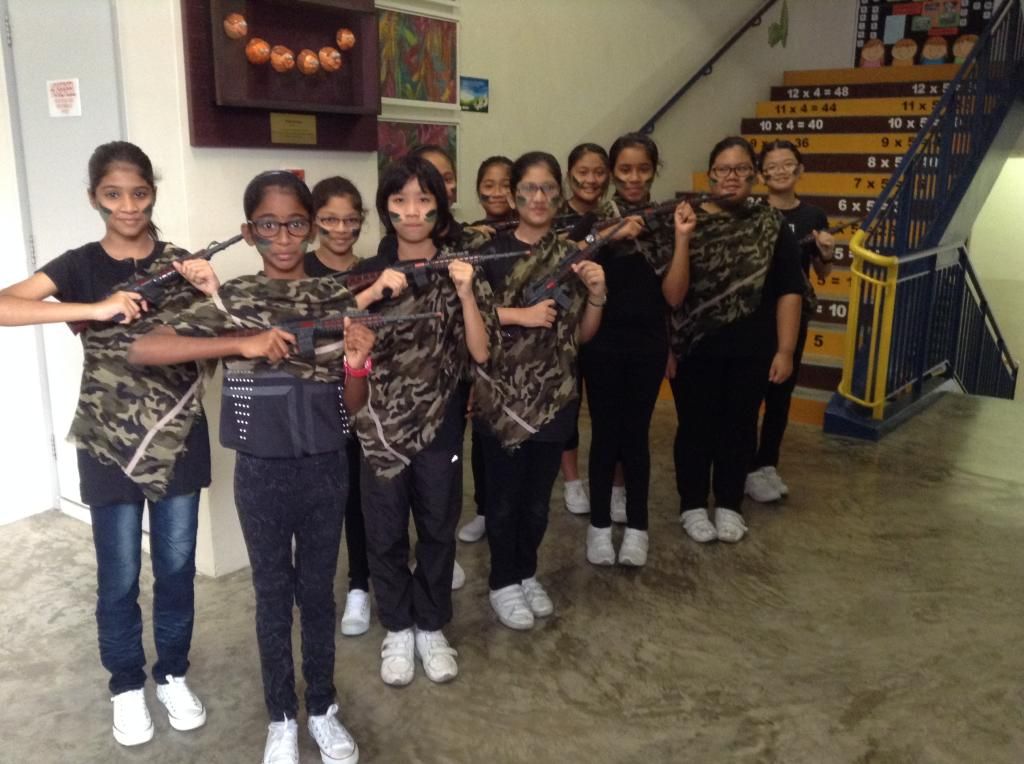 Exposure Trip: Peter Pan (The Never Ending Story)
Our P5 pupils were given an opportunity to watch A Music Hall Production musical, Peter Pan (The Never Ending Story) on Saturday 17 January. The objective of the trip is to allow our pupils to be exposed to myriad theatre production as well as to be able to harness creative ideas and gain better insights on drama technique and skills.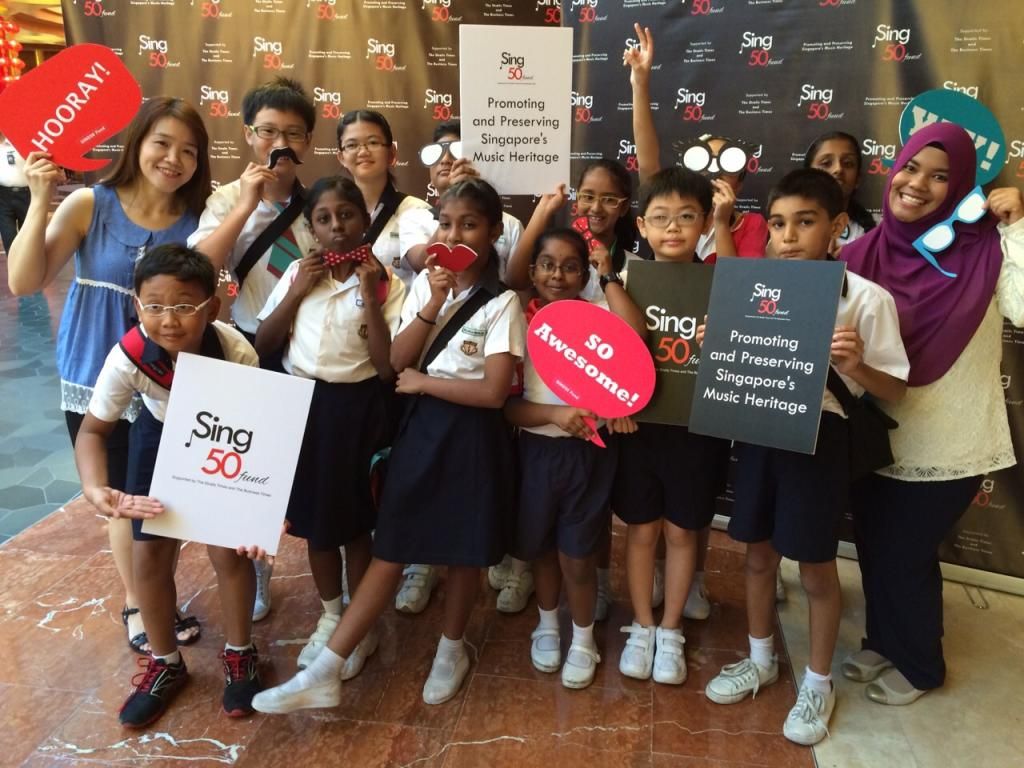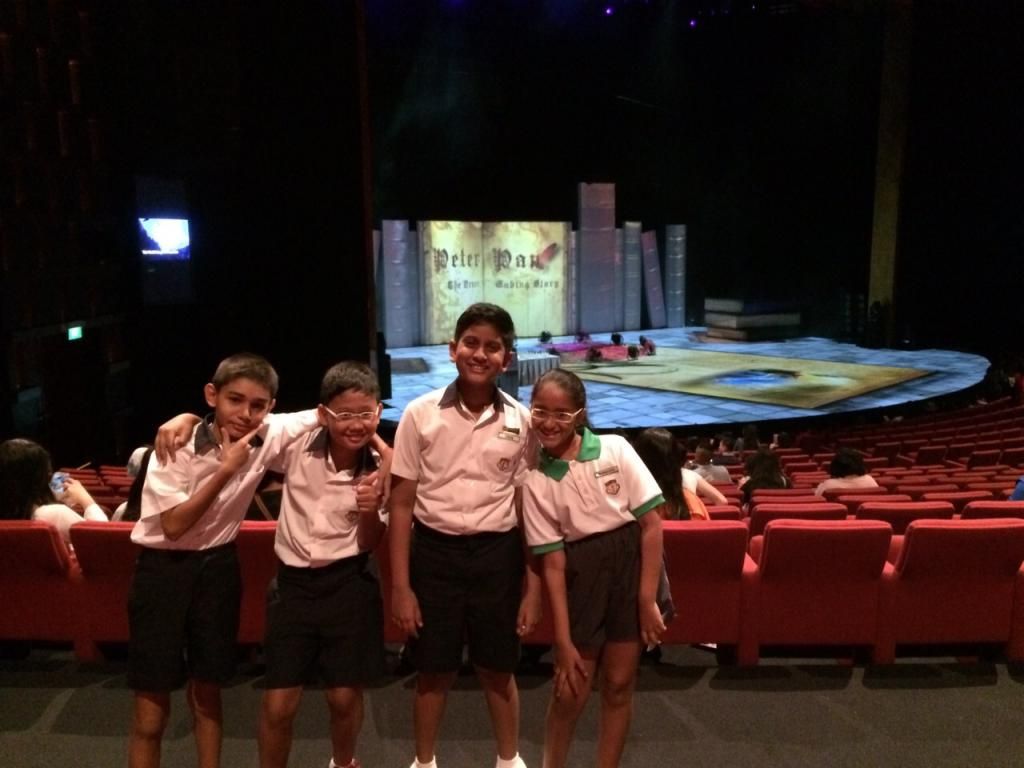 CCA Open House 2015
Thank you for dropping by our booth and showing interest in ELDS.
If you missed some of the actions that had happened during the CCA Open House,
here are some photos!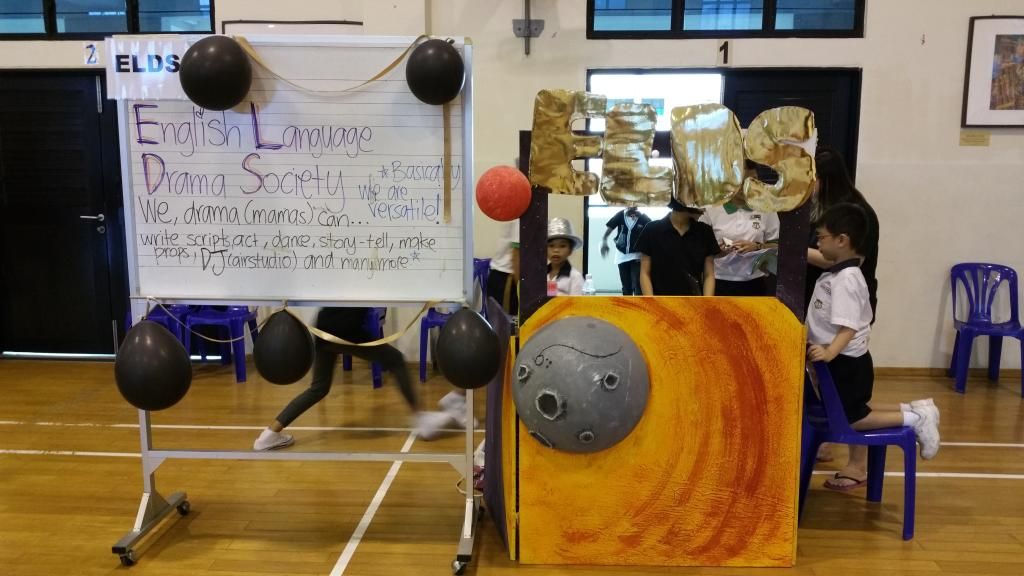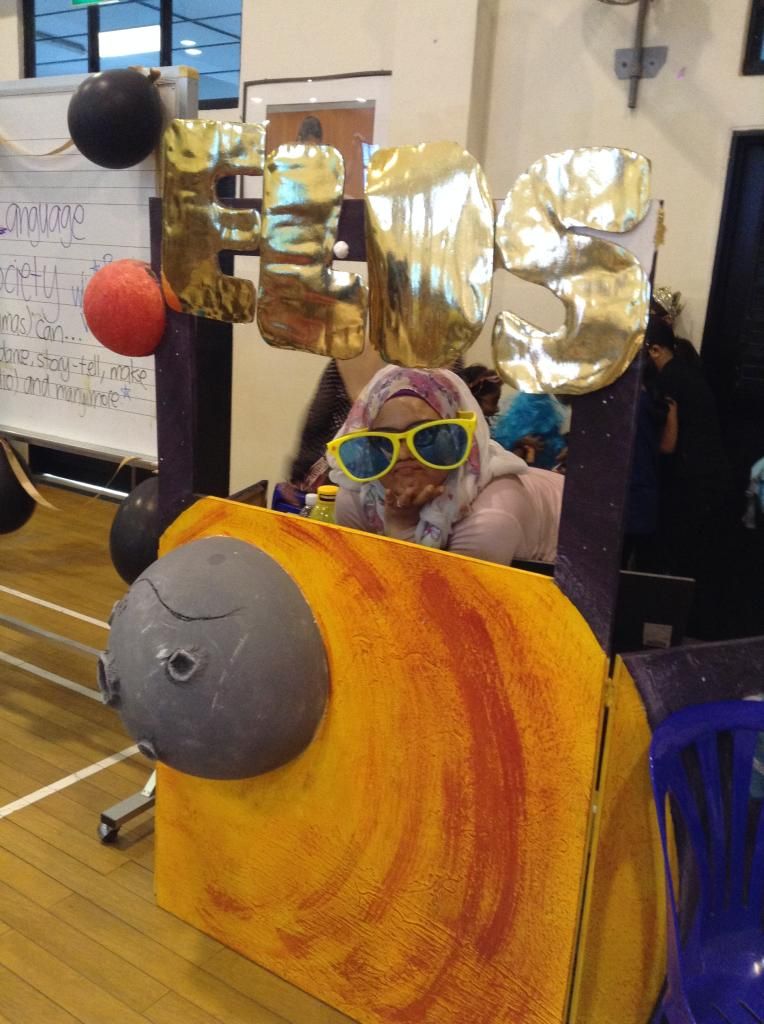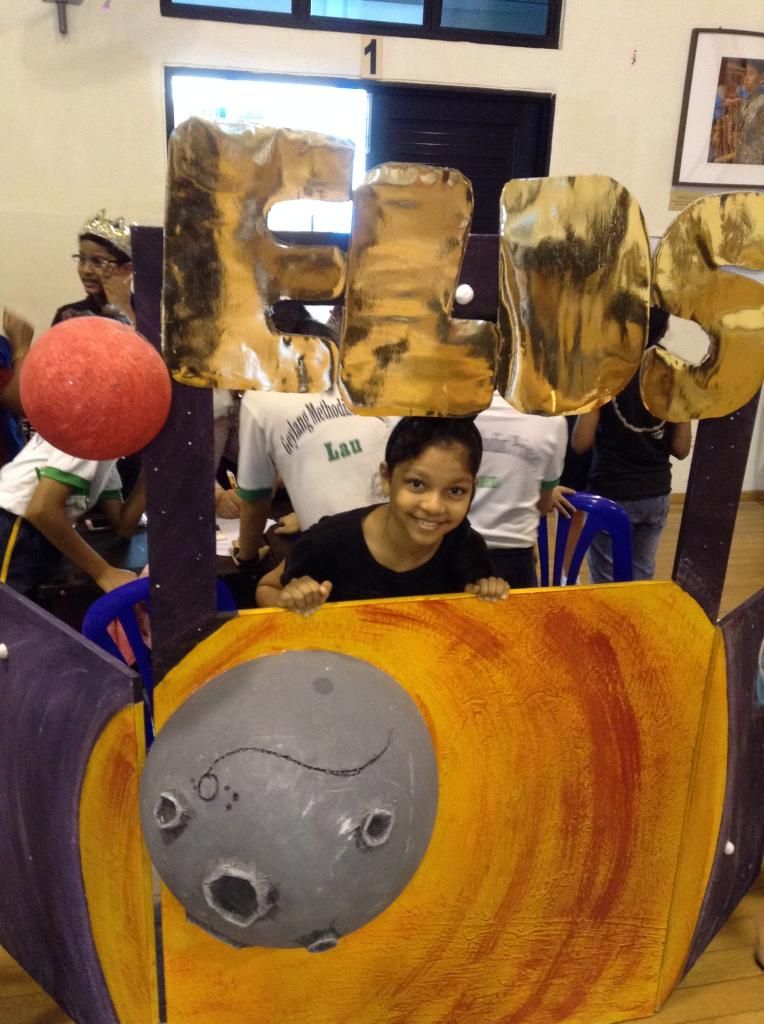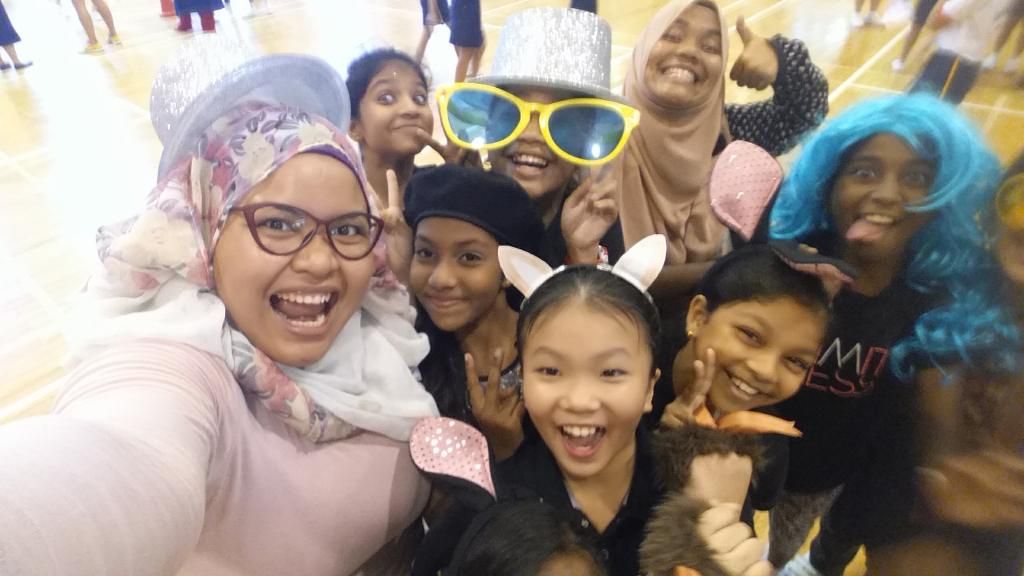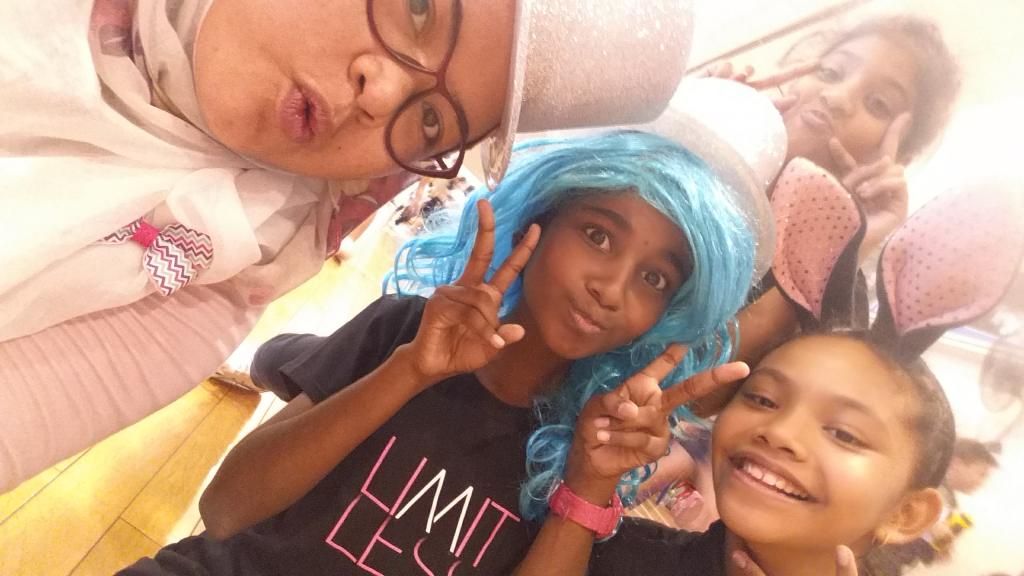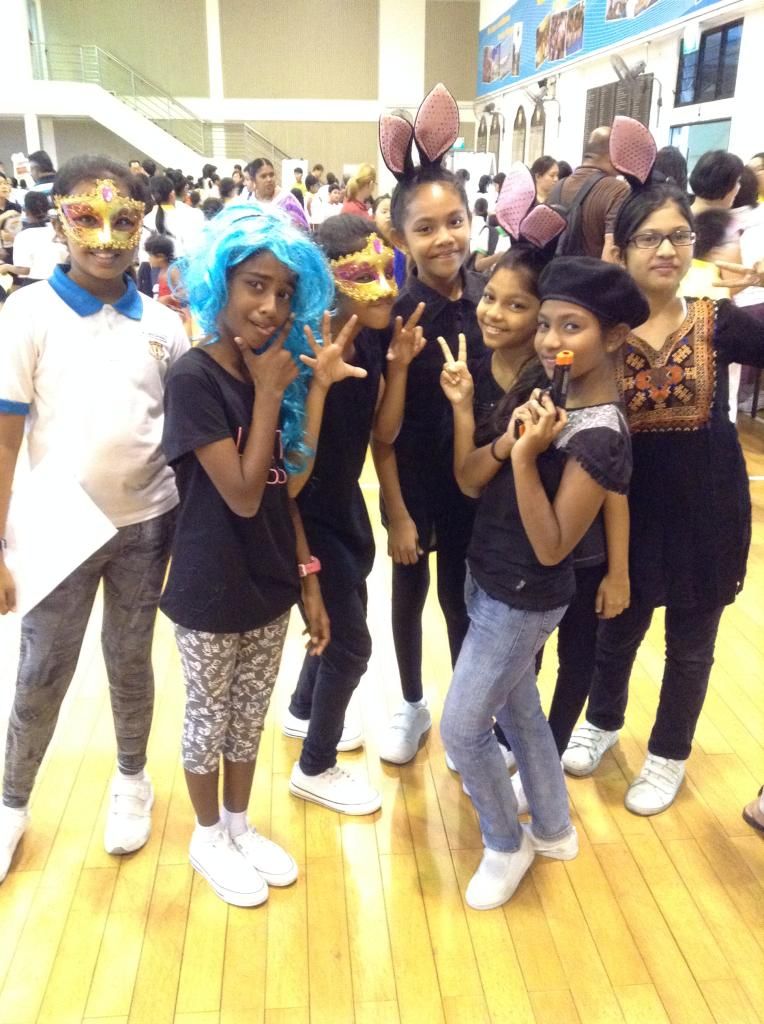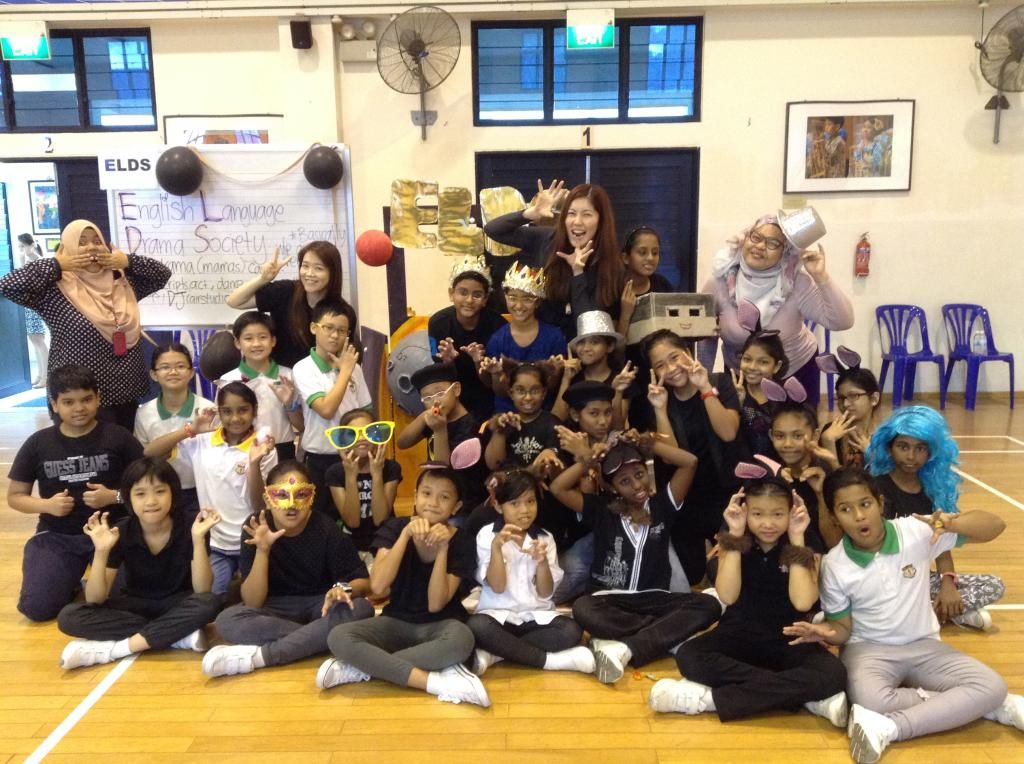 Exposure Trip: Princess and The Pea
On 4 November 2014, selected Primary 3 to Primary 5 ELDS members were given an opportunity to catch a theatre production by Players Theatre's The Princess and the Pea, an original script exploring identity and destiny in an imaginative re-telling of the classic fairytale.

Synopsis:
Neverywhere is the last bastion of the old life, how things used to be, and its Prince Errol is looking to marry a princess. The future depends on it! But where do you find a real princess in a world come undone? One stormy night, an unexpected visitor comes knocking, a beautiful girl and her giant robot friend. She's strange, wonderful, unconventional and nothing like how a princess should be. Could Penelope be the one? And can she pass Queen Electra's royal test?

"You are who you choose to be".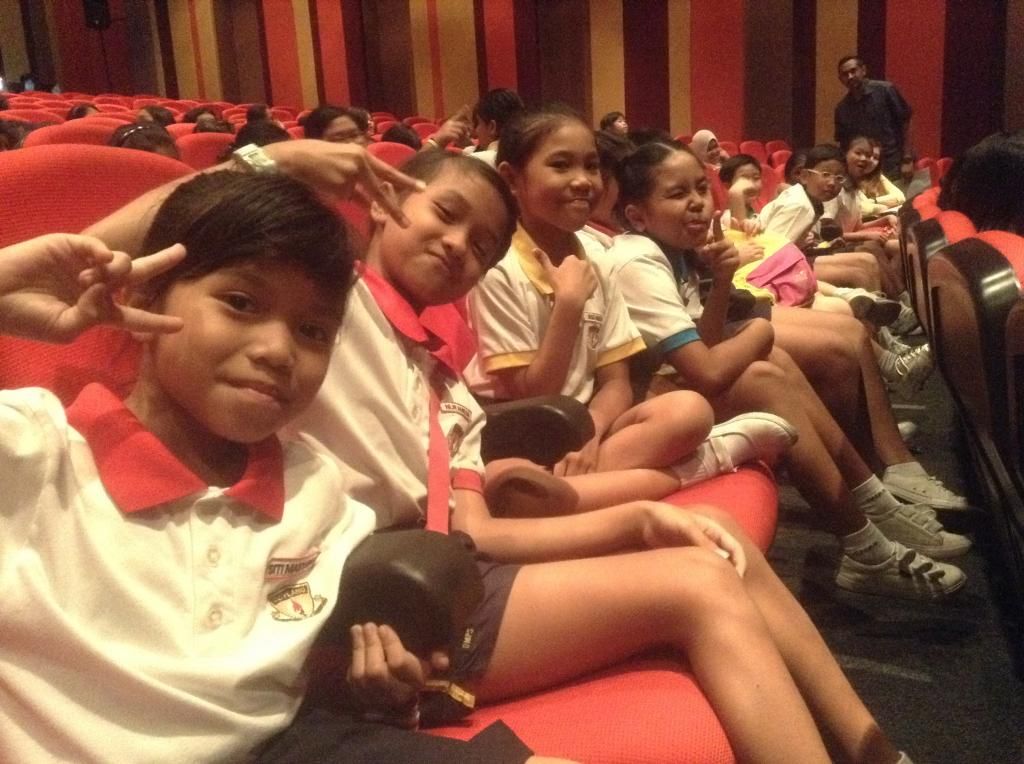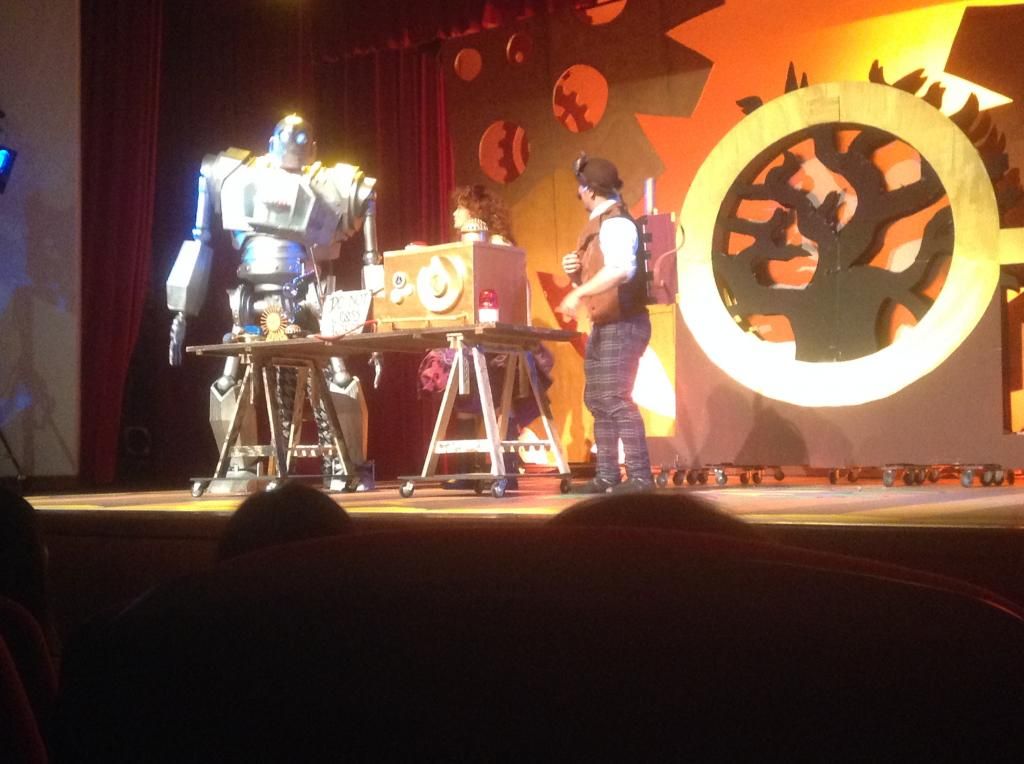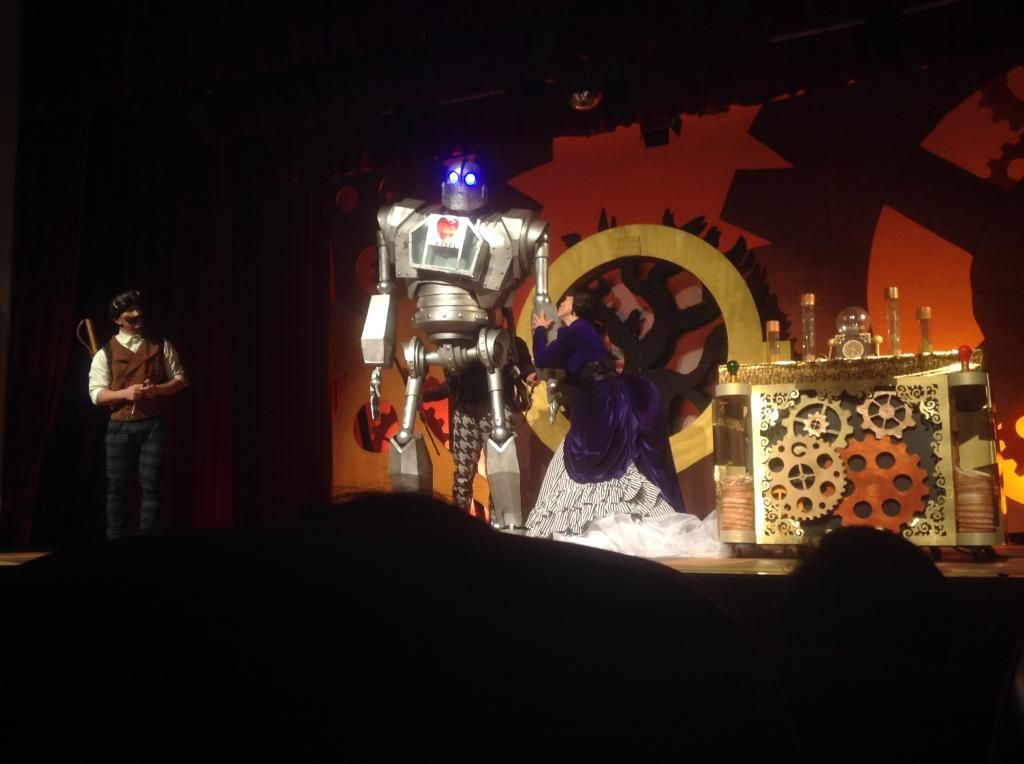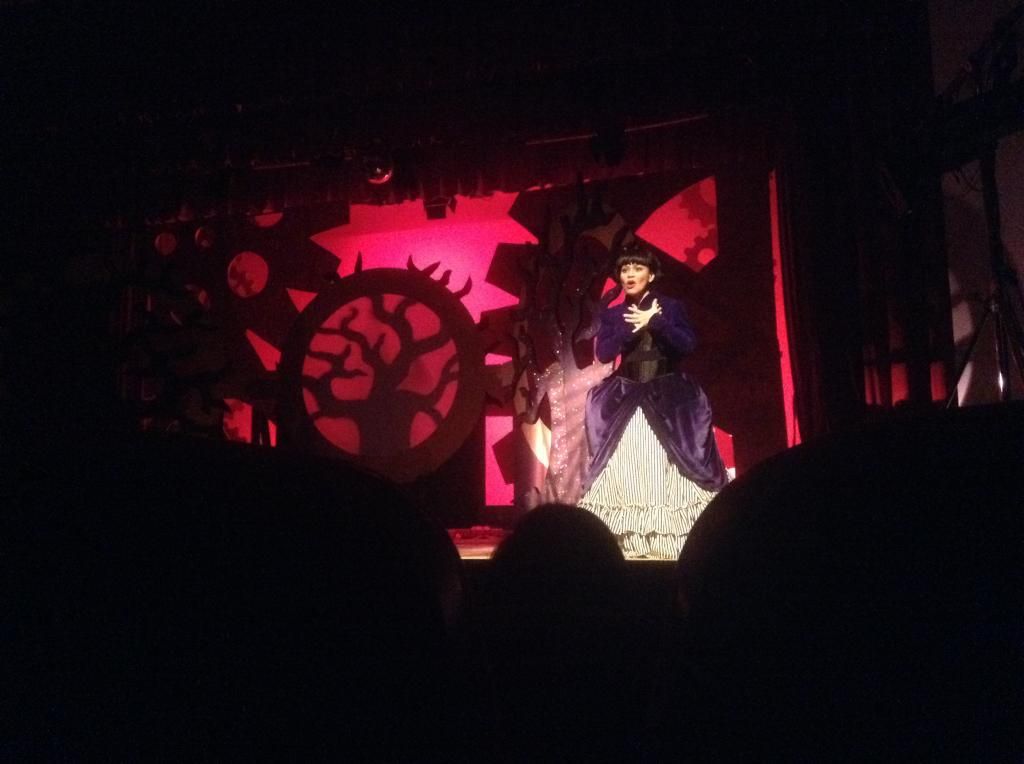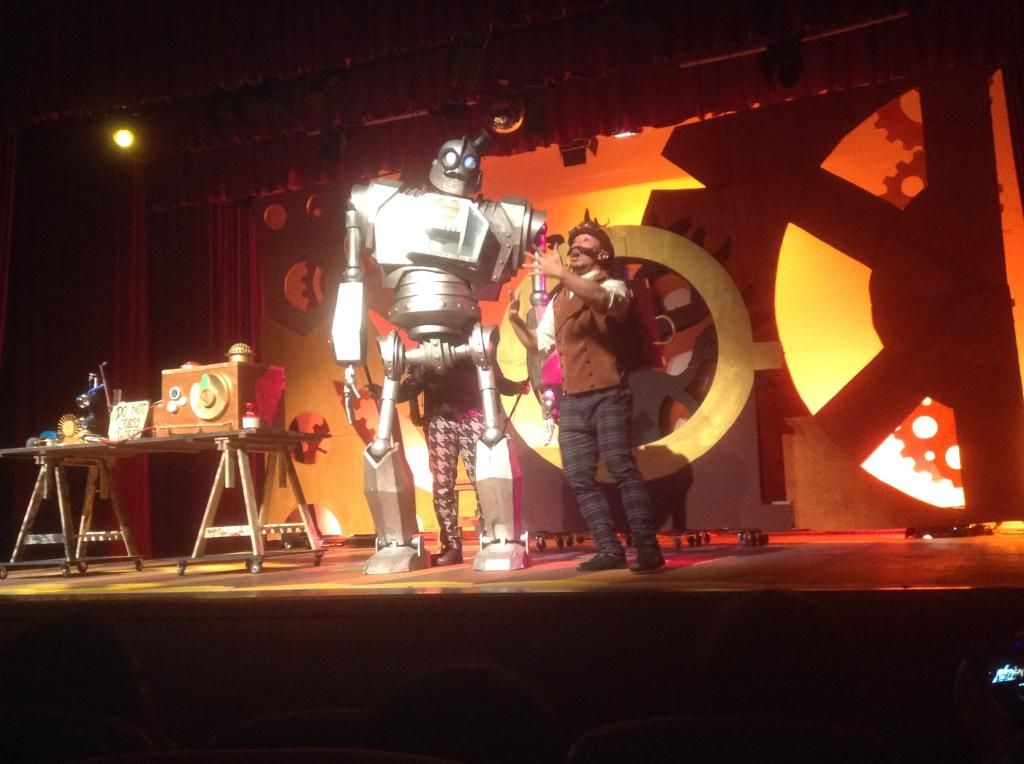 VIA Project: Singapore Association for the Visually Handicapped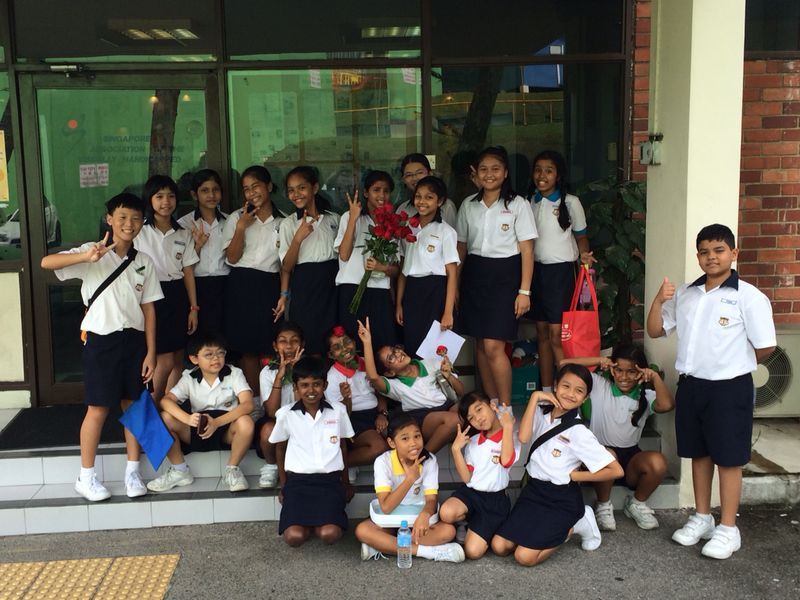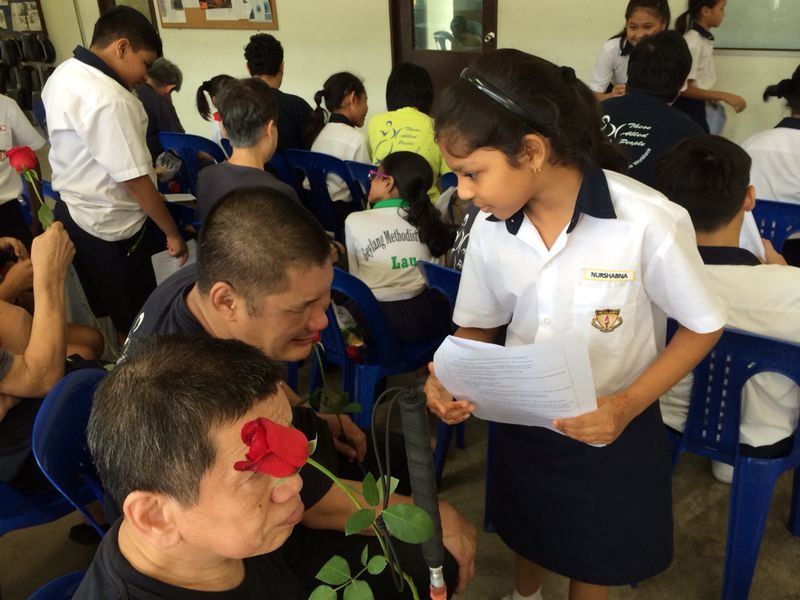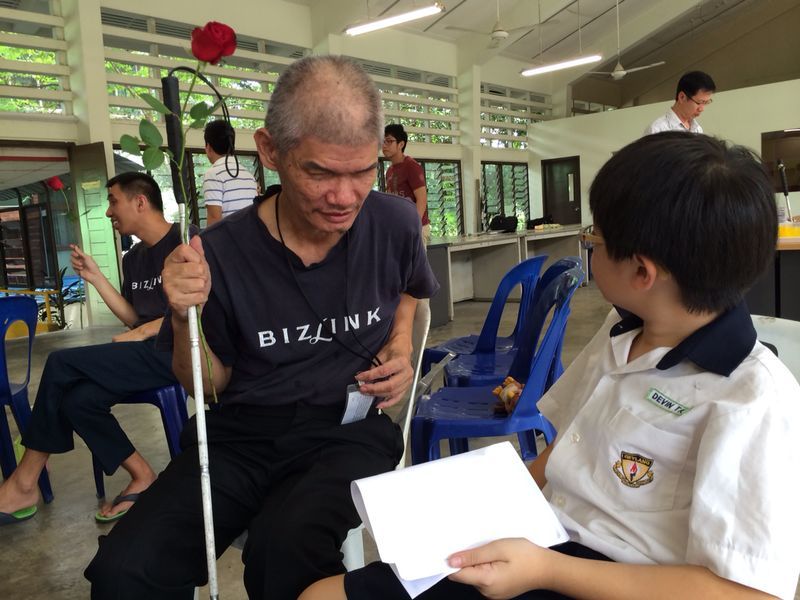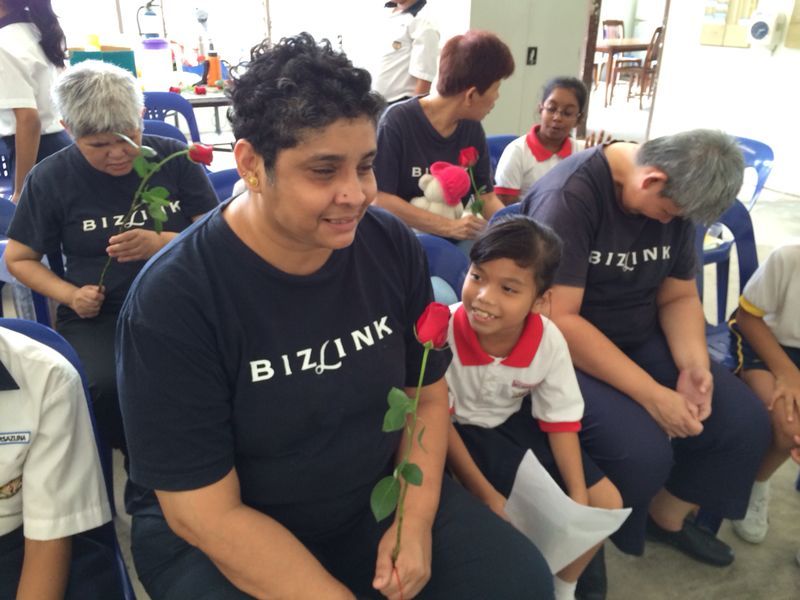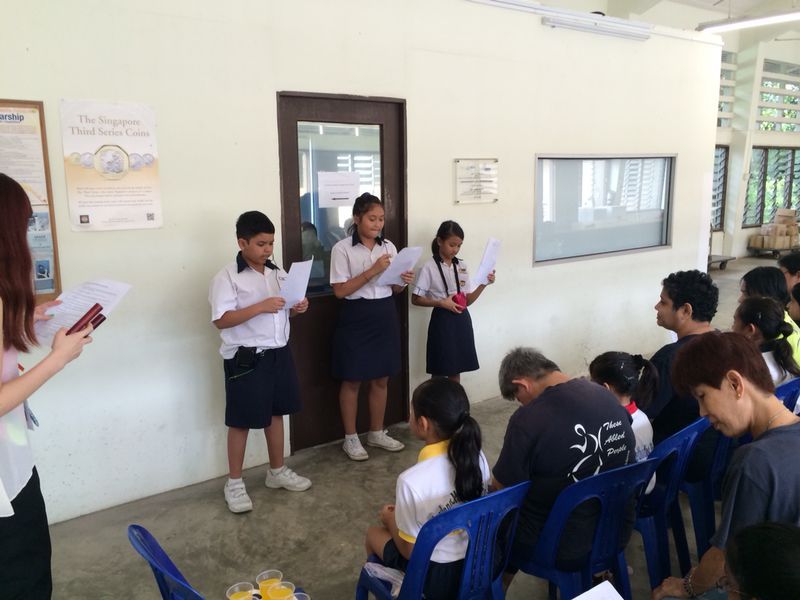 On 1st August 2014, the ELDS members went for a VIA project at the Singapore Association for the Visually Handicapped, also known as SAVH. By making use of different senses such as sound, touch and smell, we wanted to put together an interactive drama for the visually handicapped.
This VIA Project started because on 30 October 2013, we visited the Dialogue in the Dark at Ngee Ann Polytechnic. From this event, we had the opportunity to understand and experience the lives of the visually impaired. In return, ELDs brainstormed and came up with an interactive drama that even visually impaired audience would be able to enjoy.
We focused on creating mental images using other senses such as smell, sound and touch. Click on the following links to view our ELDS members in action!
Shell Singapore Youth Science Festival (SSYSF) STAGE! 2014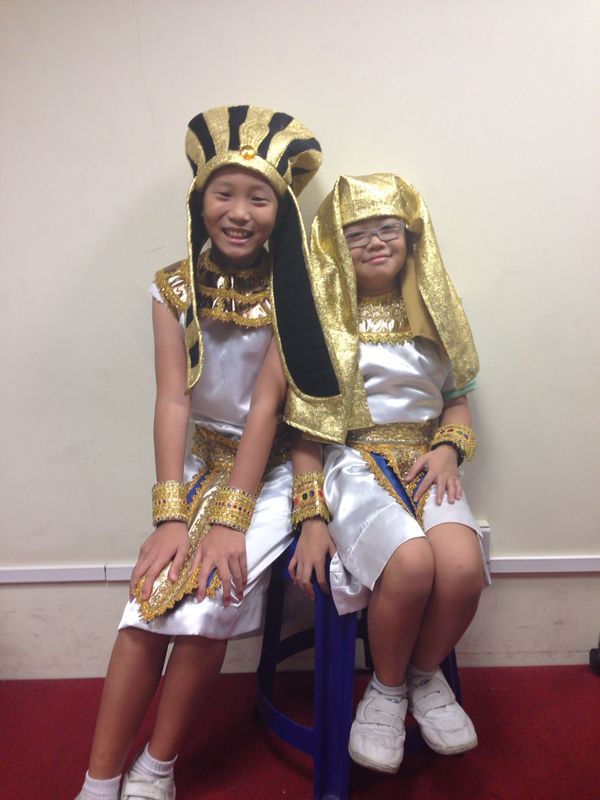 SSYSF Stage! is a drama competition for primary schools organised by the Science Centre Singapore and this is the third year that our club is participating in this event. The theme for this year's competition is 'Crystals - More than Meets the Eye' as 2014 is the UN International Year of Crystallography. We came up with a 7-minute skit entitled The Emerald of a Thousand Cures. Below is the synopsis:
Who will save the queen at her deathbed? 2 groups set out to find the prized "Emerald of a 1000 cures" entombed in the valley of the Kings. Through the trials and tribulations of their journey taht they will face, the teams need to look beyond the known. Will they be successful?
Do click on the link below to watch the video!
Total Defence Day 2014
30 Years of Total Defence Day: Because You Played A Part
An abstract piece by our Primary 6 ELDS members depicts the
life of different Shapes in Shape City, in hope of a new life. They start to argue about who is better than the other. Each proclaim their strengths and wants to be the leader in shape city only to realise that they cannot survive alone to defeat the evil Pacman and that unity is strength when each of the shapes played each of their part to form a shield against Pacman.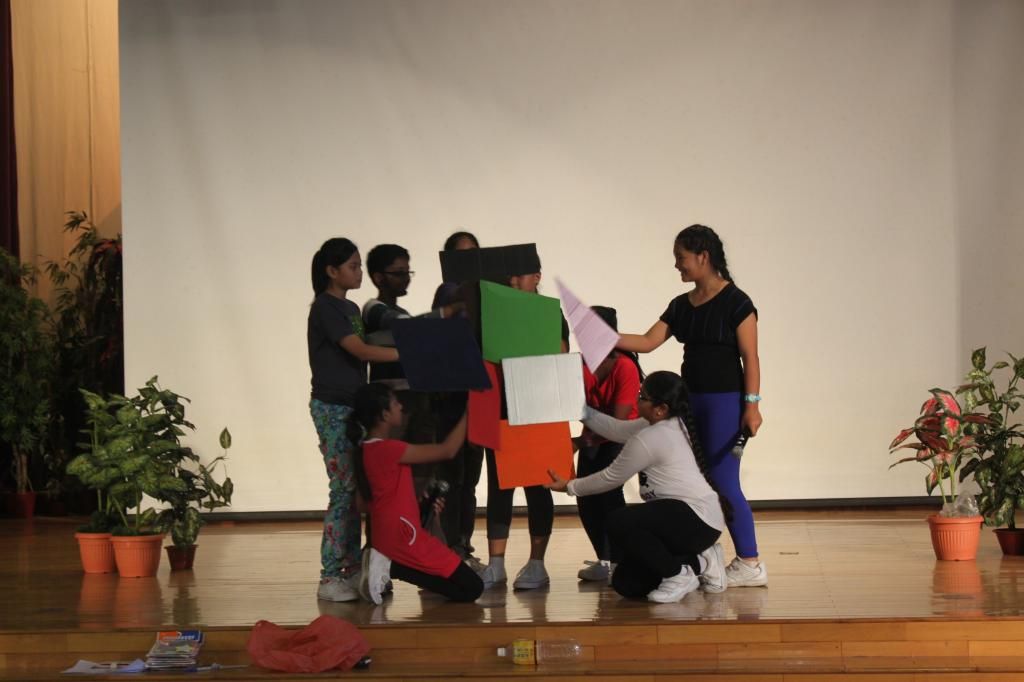 CCA Open House 2014
Thank you for dropping by our booth and showing interest to be part of ELDS.
We do hope to meet our new members on
24 January 2014
once the CCA allocation has been finalize.
We will be issuing the consent forms soon.
If you missed some of the actions that had happened,
here are some photos!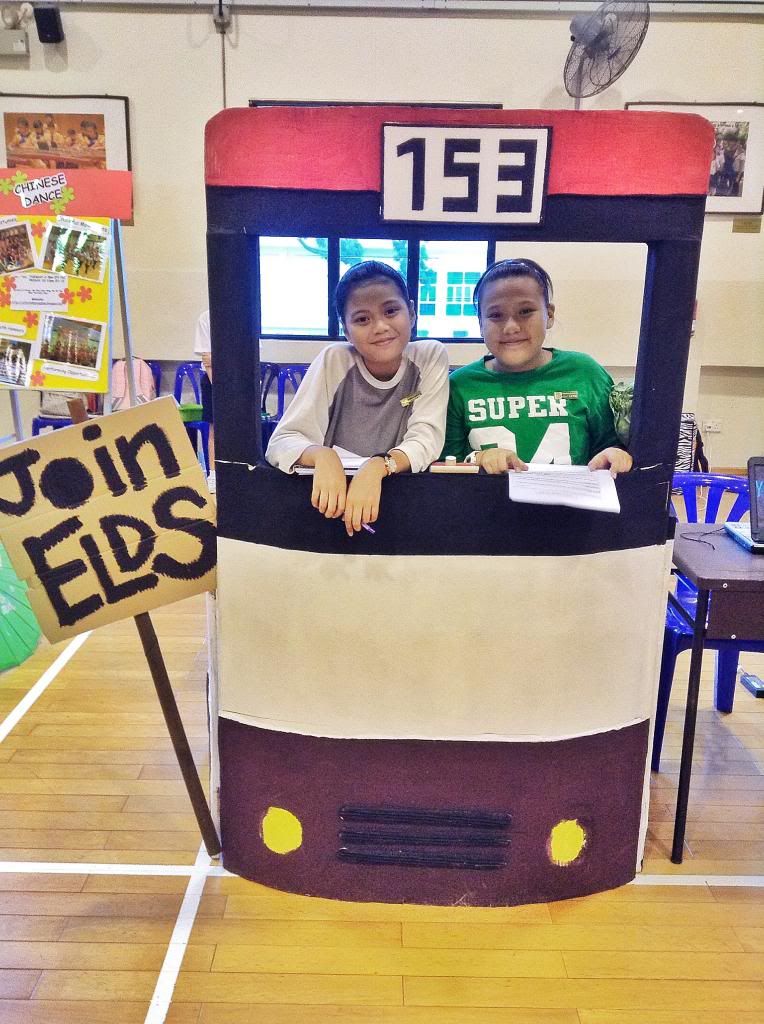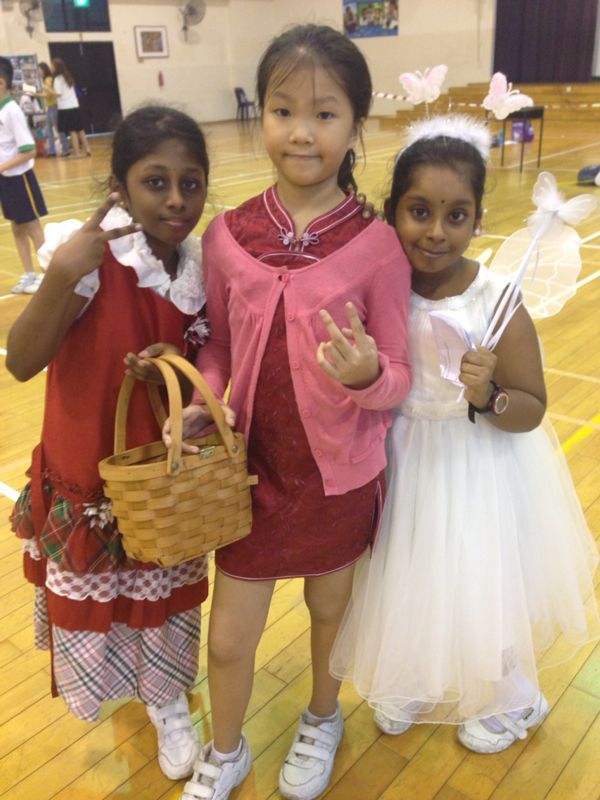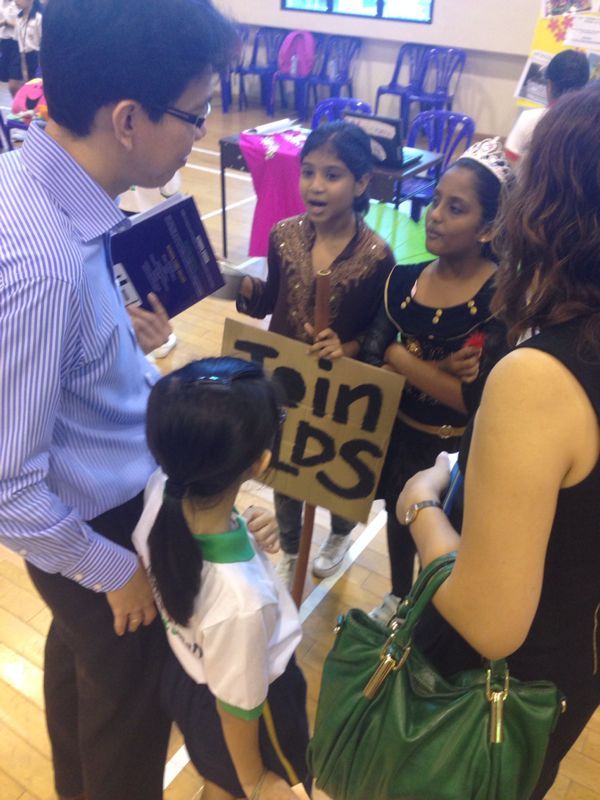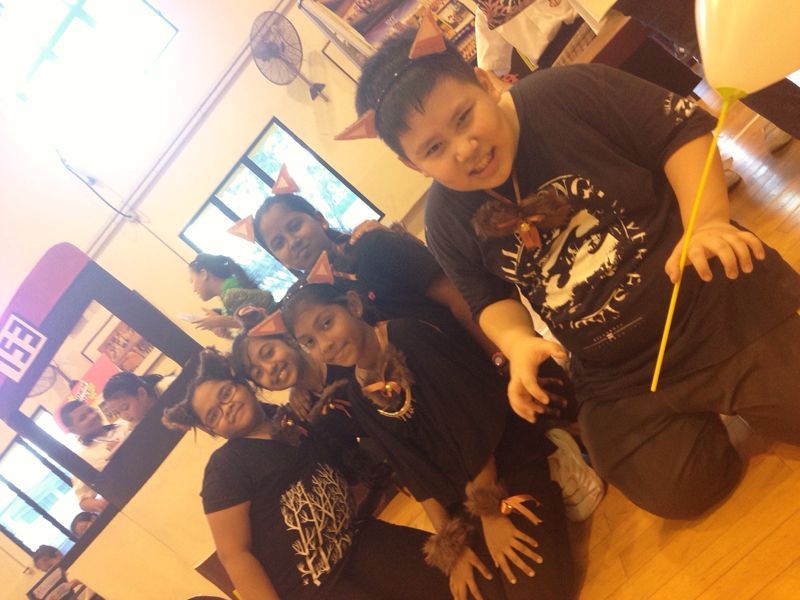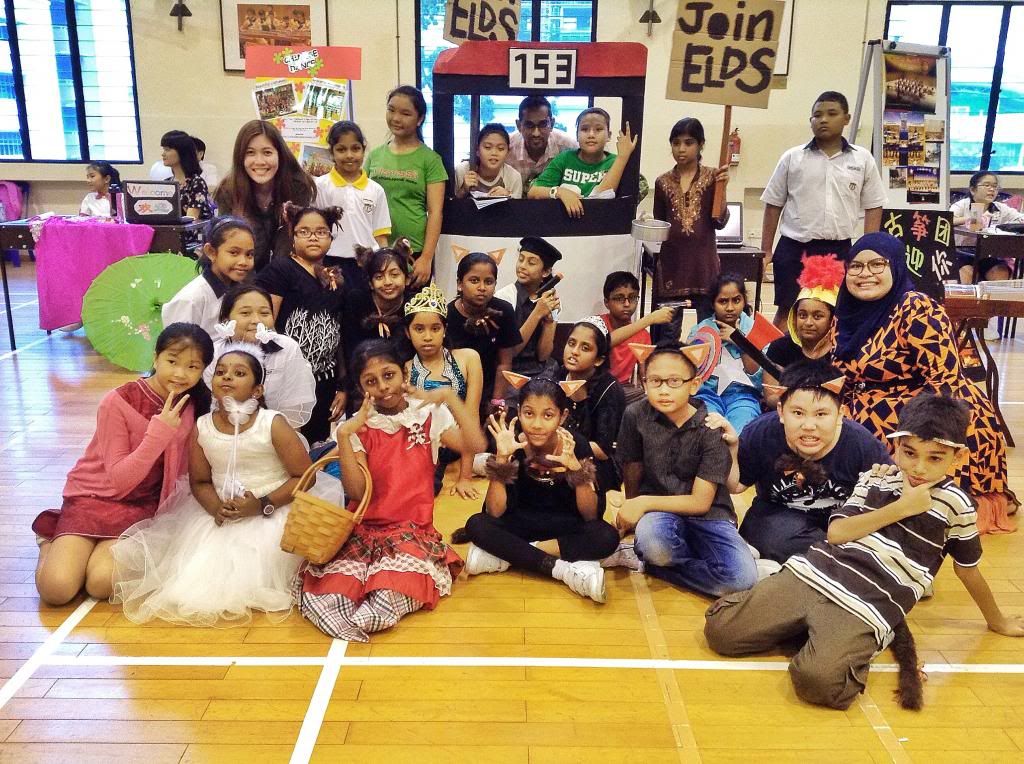 Dialogue in the Dark
We were at Dialogue in the Dark Singapore on 30 October 2013 where we 'learnt to see' in a whole new way. We were accompanied by a blind guide and began our journey in small group of eight. We were given a white cane to help feel our way through the simulation rooms where we were put in everyday situations in complete darkness.
Dialogue in the dark has different themed environments, with scents and sounds creating sequence of places like an open park, cruising in a boat, moving through the streets of a typical Singaporean housing estate complete with a neighbourhood market and finally the coffee shop, all in the dark.
The objective of our trip to Dialogue in the Dark is to understand and experience the lives of a visually impaired people within the 1 hour that we are in the exhibition and eventually create awareness for the visually impaired people through our performance as part of our Values-In-Action (VIA) in 2014.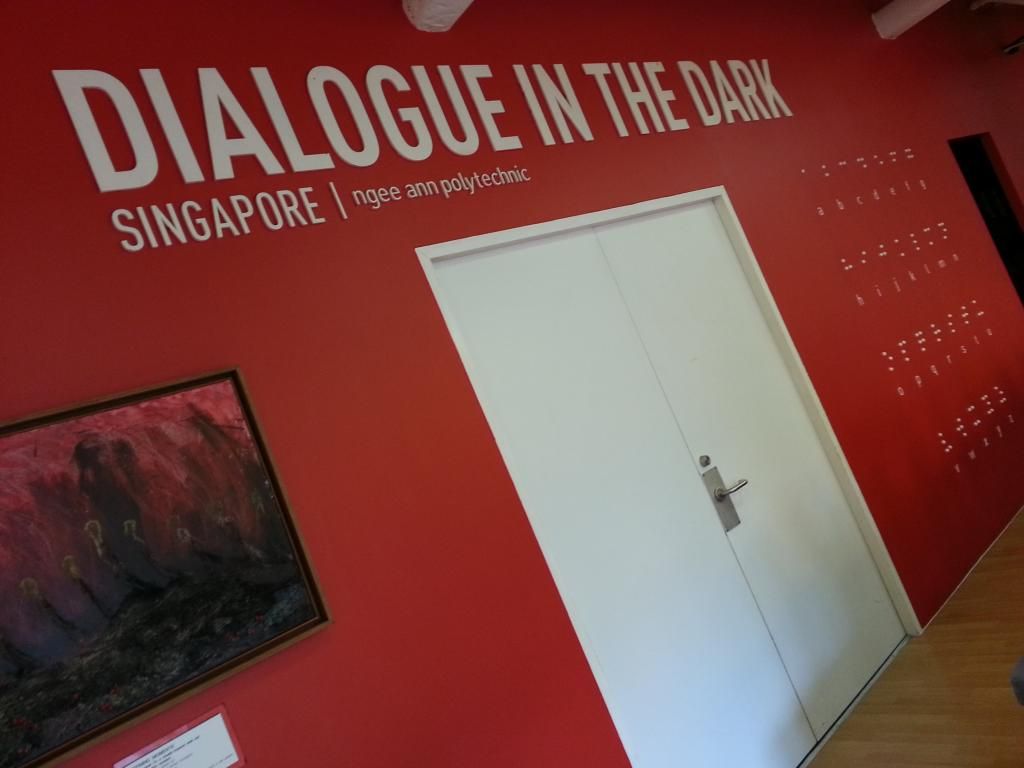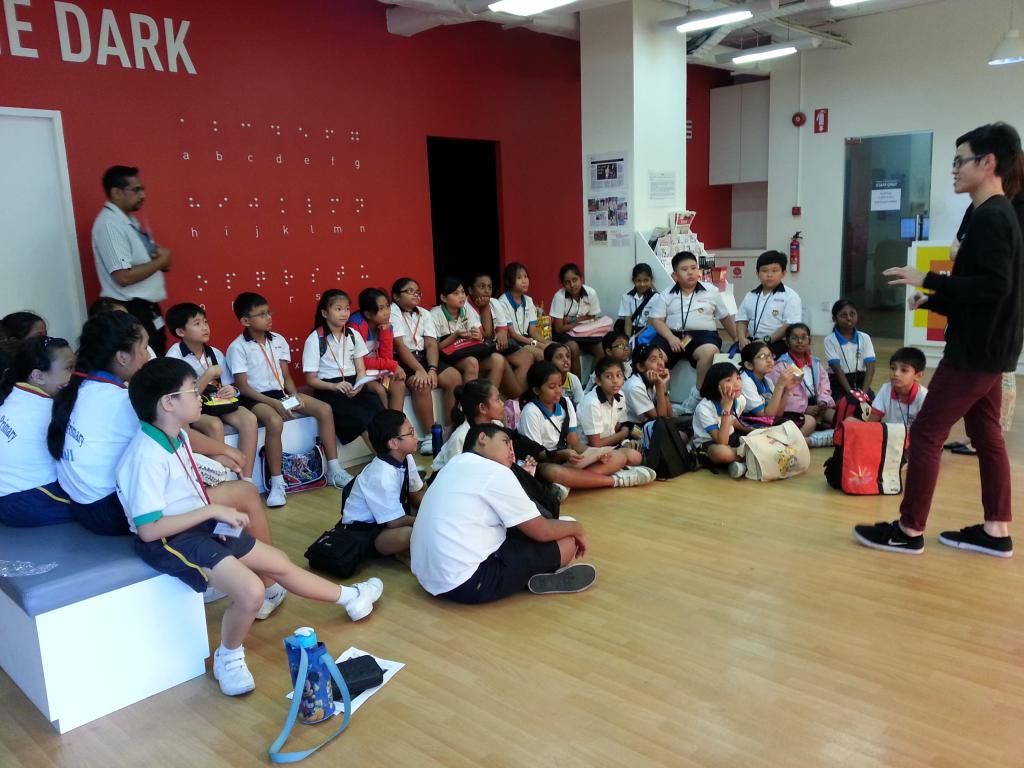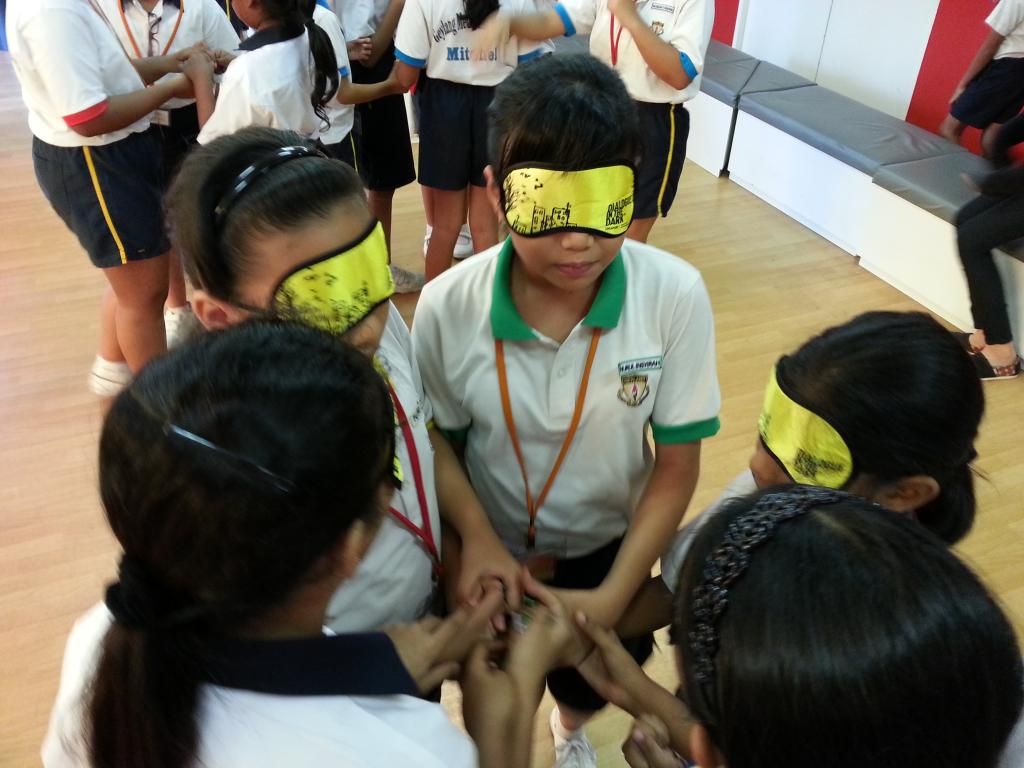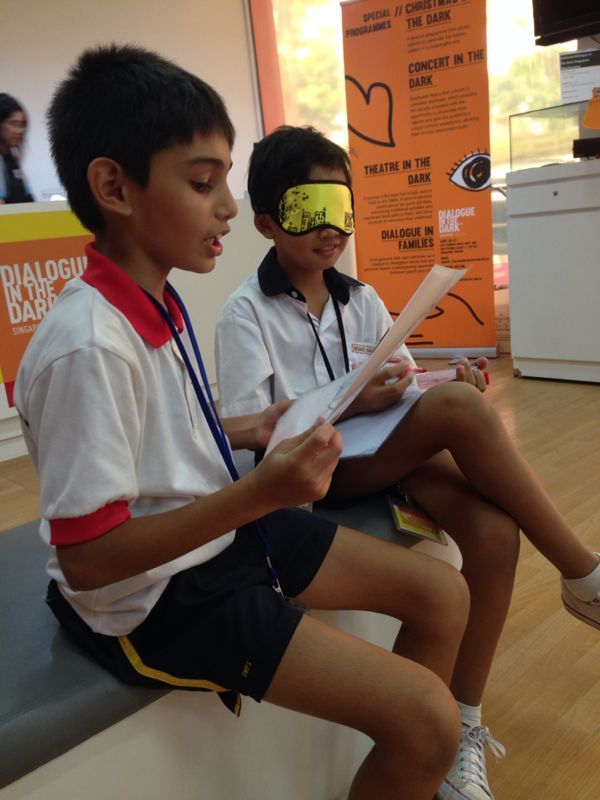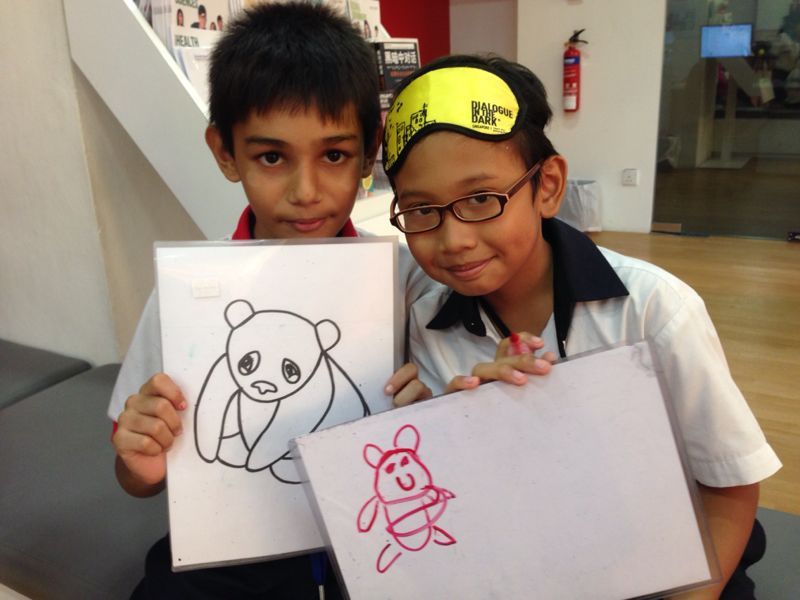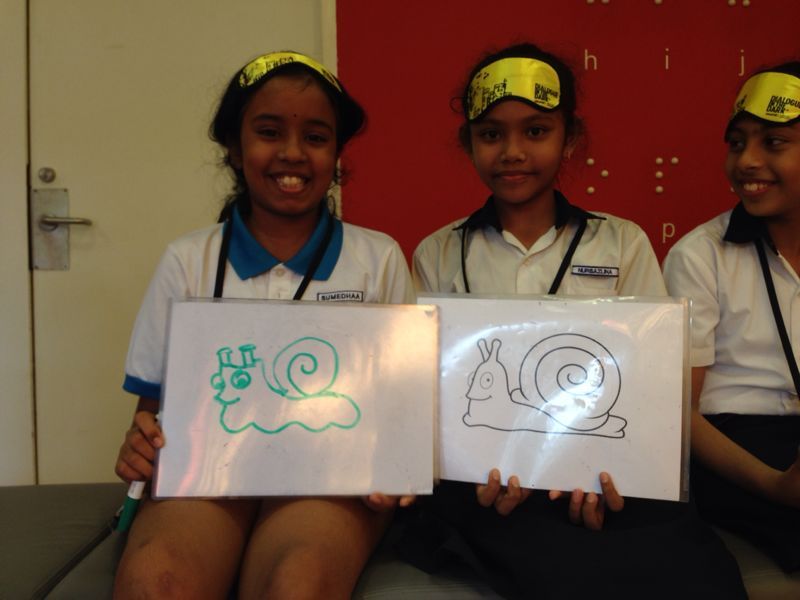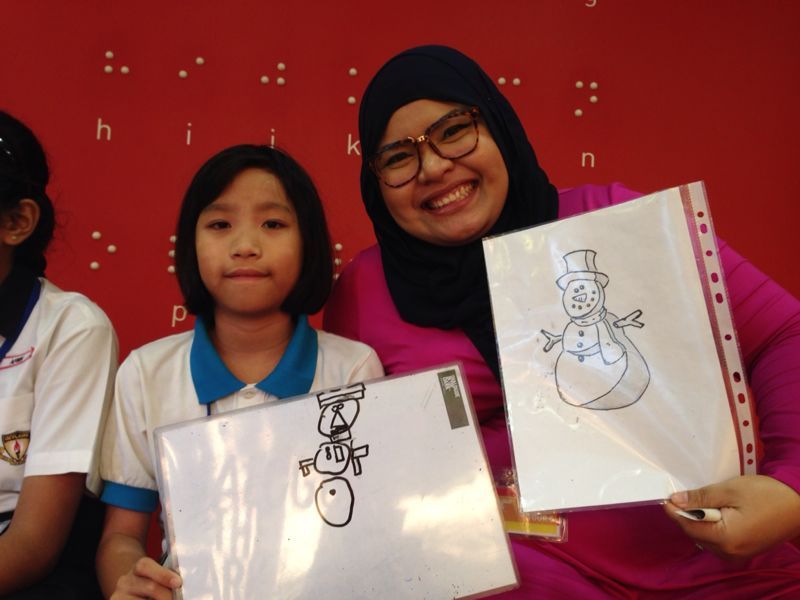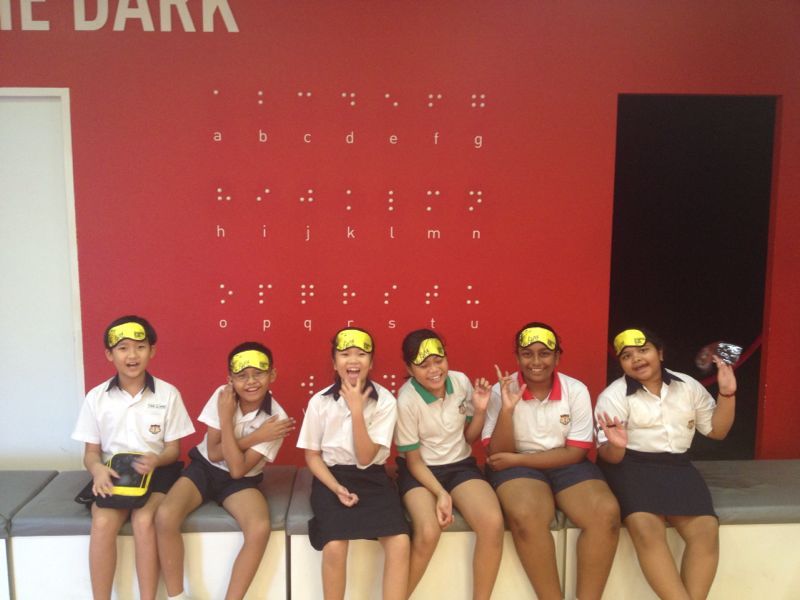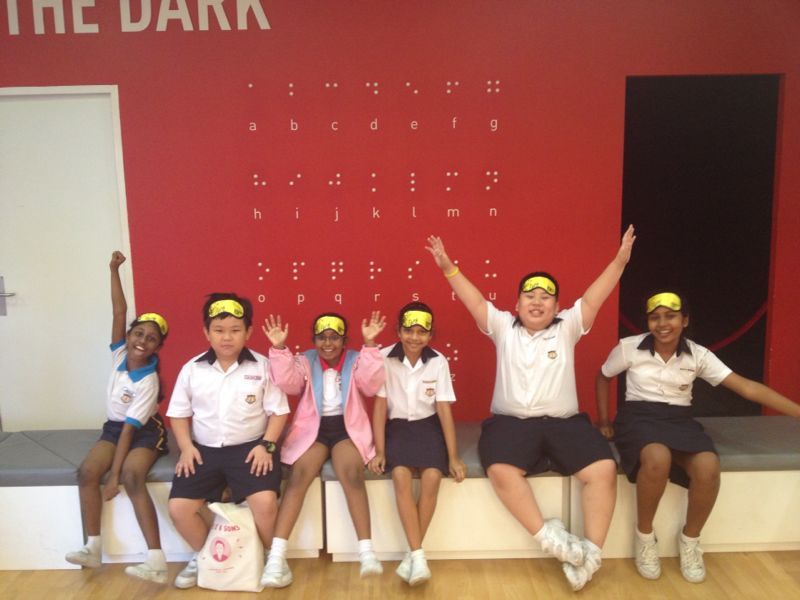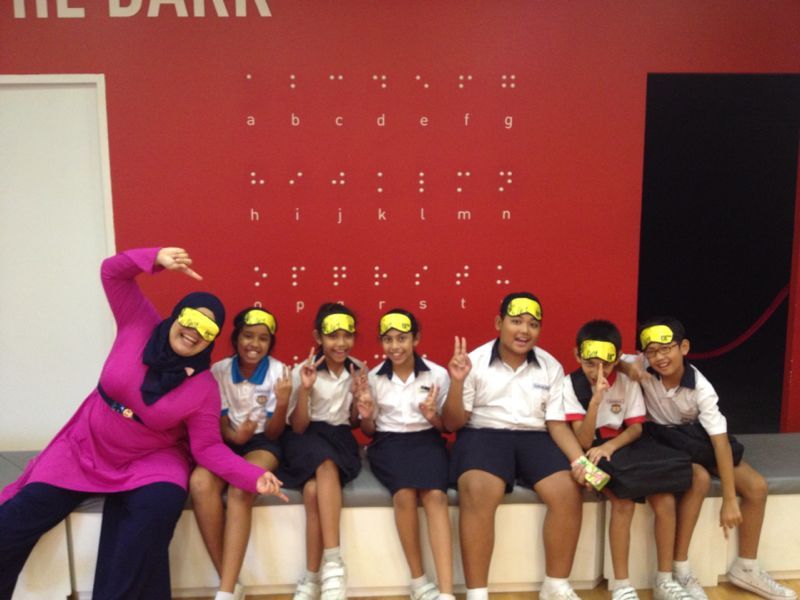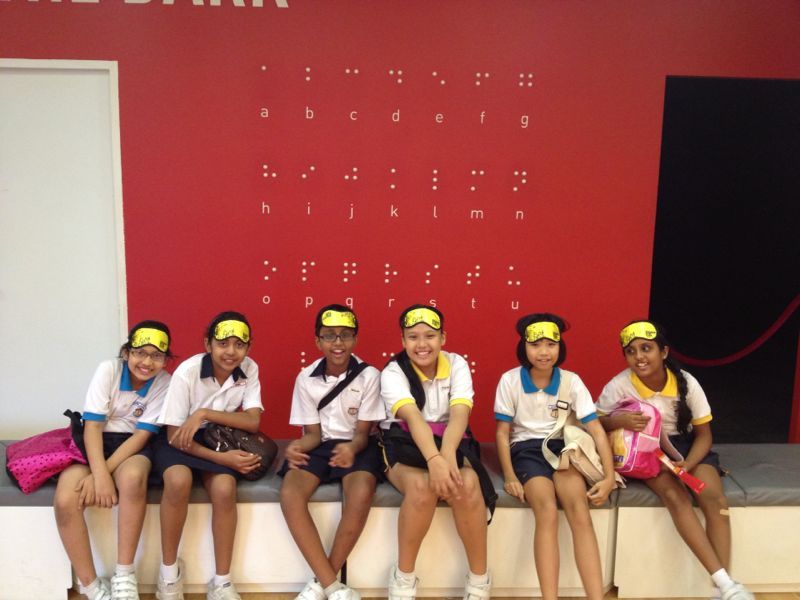 SUPER Concert 2013
On 31 August 2013, our ELDS members demonstrated our school values: love for school, respect and teamwork when we showcased out talents for the concert. We volunteered our Primary 3 to Primary 5 members for a mega closing flash mob dance to raise as much funds as possible to improve school facilities to support Teaching and Learning.
ELDS, together with all other talented pupils which are personally hand-picked by the Music teachers enjoyed ourselves when performing for over 300 audience in the Auditorium! It was a sweet, fruitful experience to be part of this charitable event.
Singapore Youth Celebrations 2013: IN.FUSION
SYF Celebrations 2013 was held from 2 to 6 July 2013. This year, the festival will be organised in public spaces at the Esplanade, the Ngee Ann City Civic Plaza, the Suntec City Mall Atrium and a number of the libraries to reach out to the youths and parents, and also showcase the accomplishments of our students to the public.
Our Primary 4 ELDS members submitted our hand mime video to be part of this event and were shortlisted! We performed a mime piece accompanied by a song, titled, We Make a Rainbow, on Wednesday 3 July along Esplanade Promenade.
There were many people who came and watched our performance. Some of our pupils' parents also took the time off to watch their children's first public performance. It was an enriching experience for all when the guest of honour, Minister Heng Swee Keat watched and was taught by our pupils simple hand movements for the hand mime.
We were featured in the Straits Times, Home section on 4 July with a picture of our pupils and the minister. Do check it out!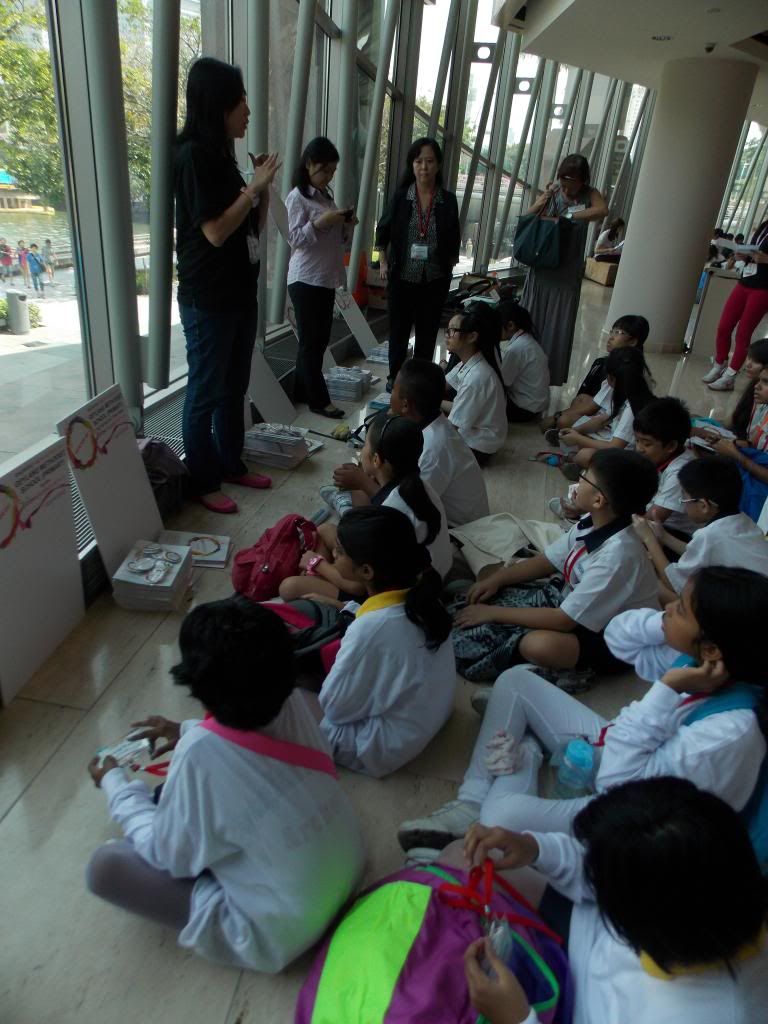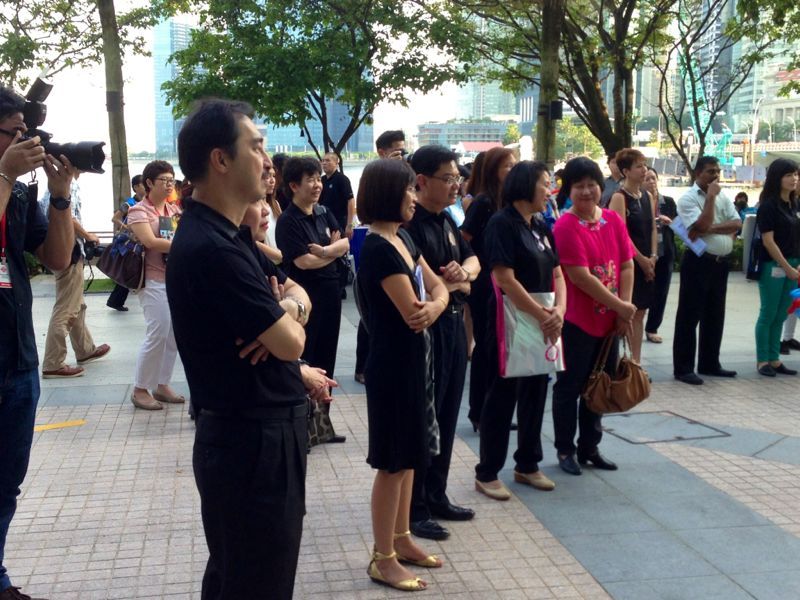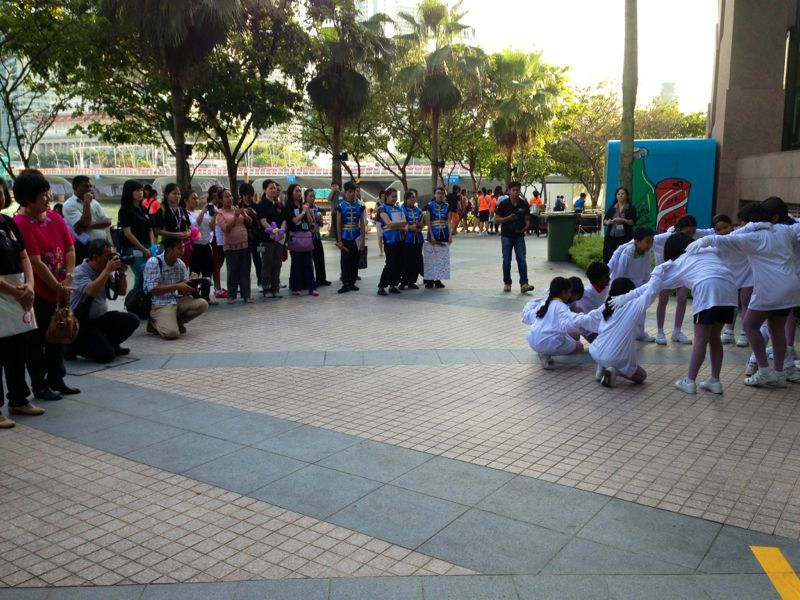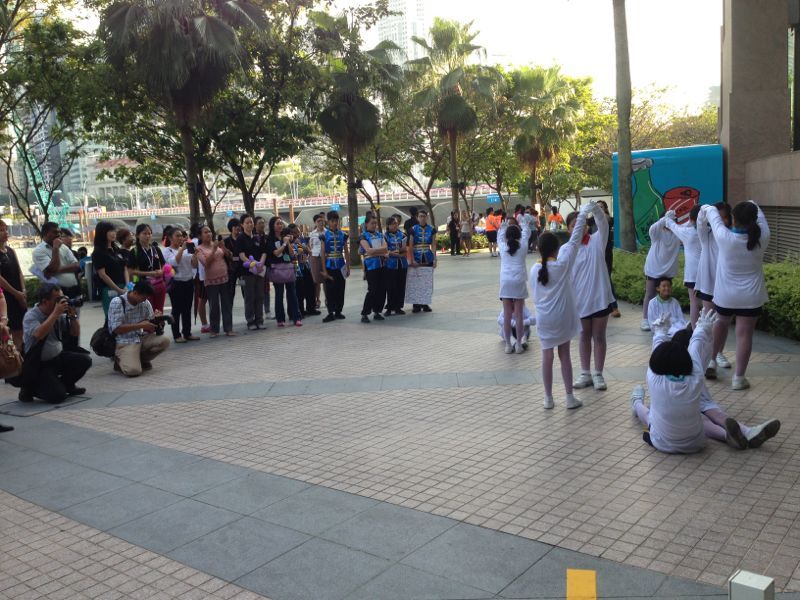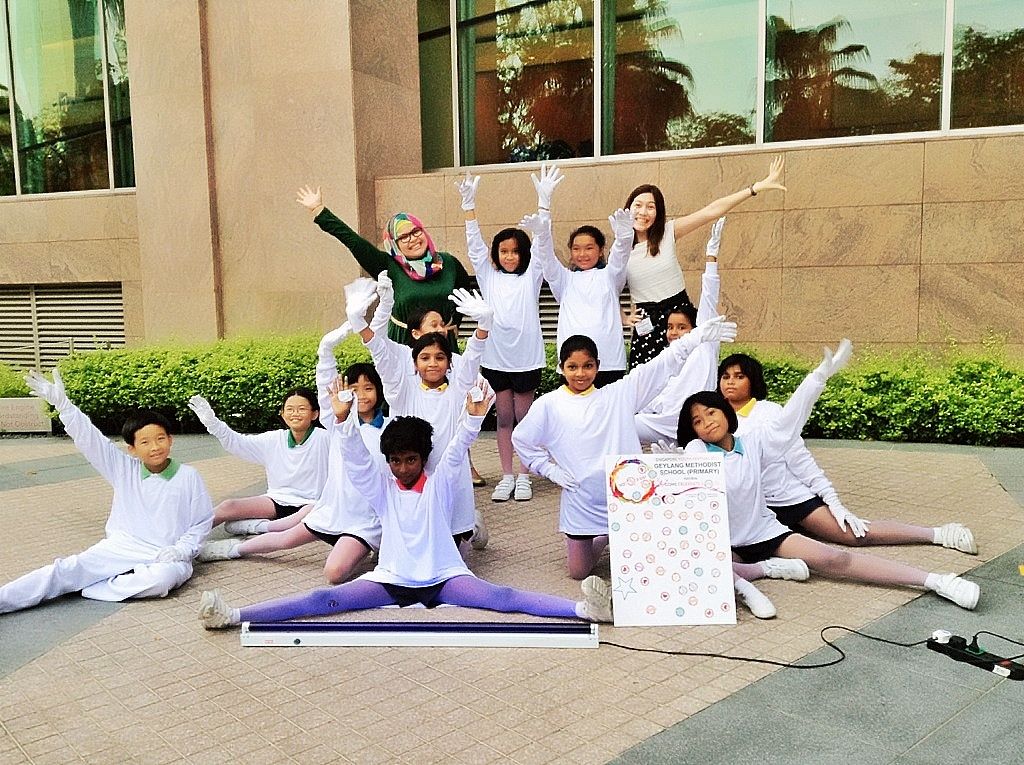 Earth Week
This week, our school celebrates Earth Week in commemoration of Earth Day which falls on Monday 22 April 2013. In view of this celebration, ELDS took the opportunity to showcase our competition skit for the SSYSF Stage Drama Competition organised by Science Centre. The theme for the 7-minute skit this year is Numbers in Nature and with this, our P4 and P5 ELDS members brainstormed ideas and wrote a script inspired by a superhero movie: Avengers. In our skit, it portrays each member of the Avengers having superheroes powers that can save the Mother Earth who is running out of resources.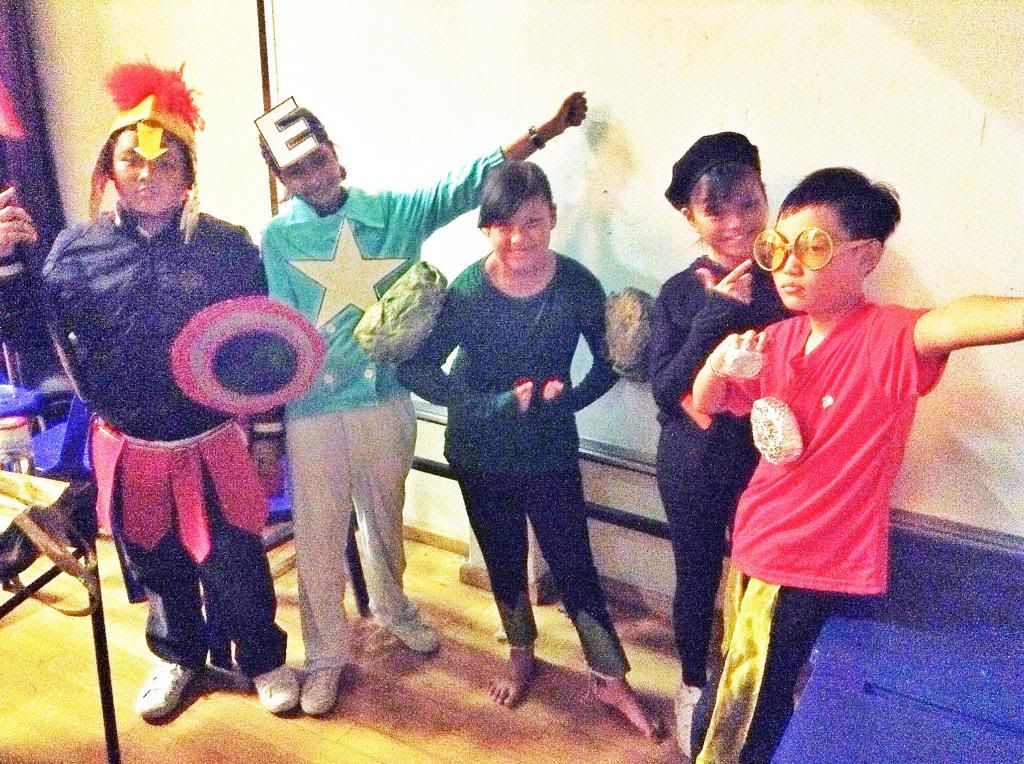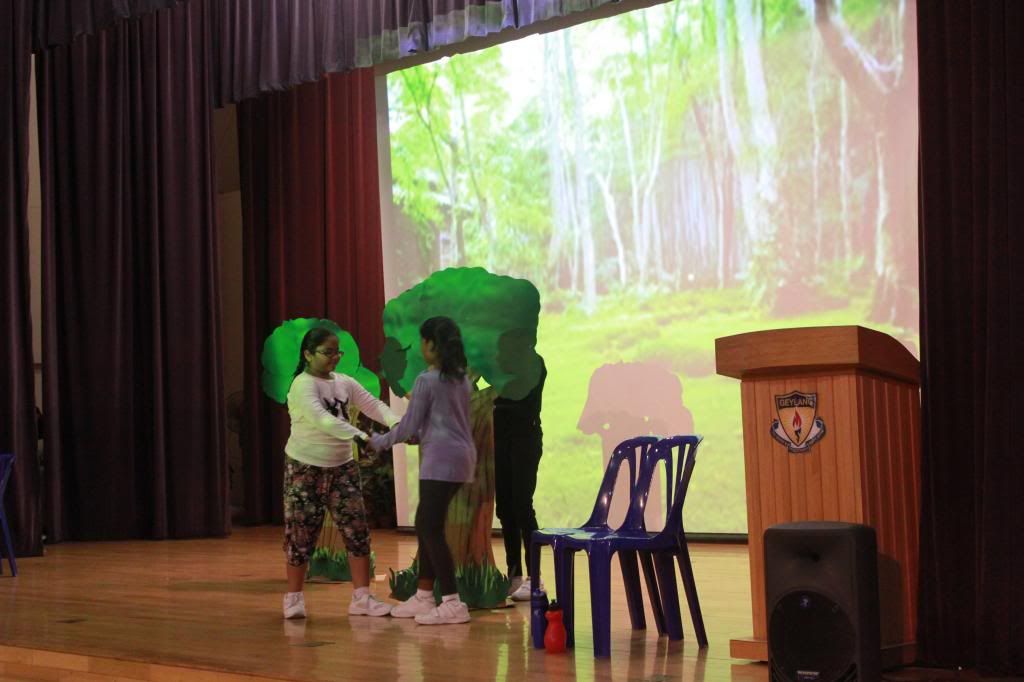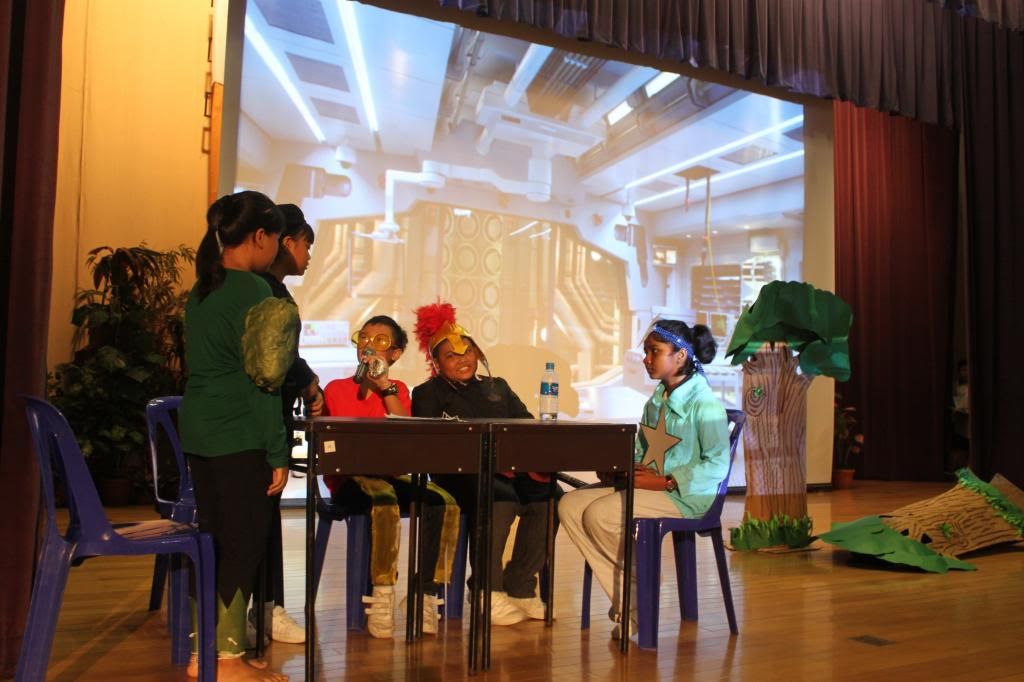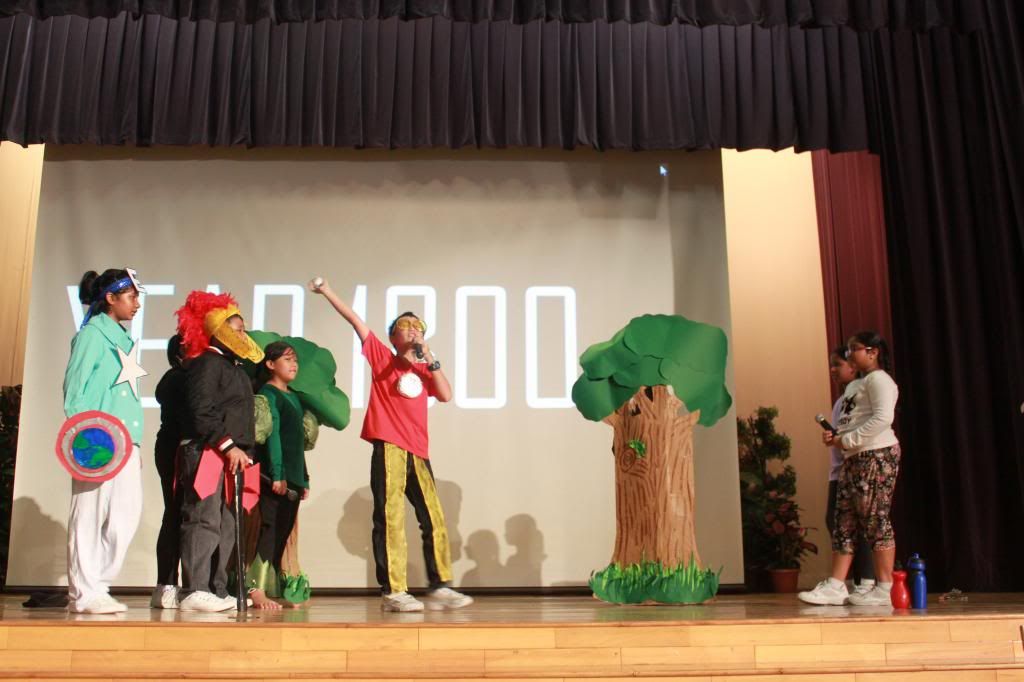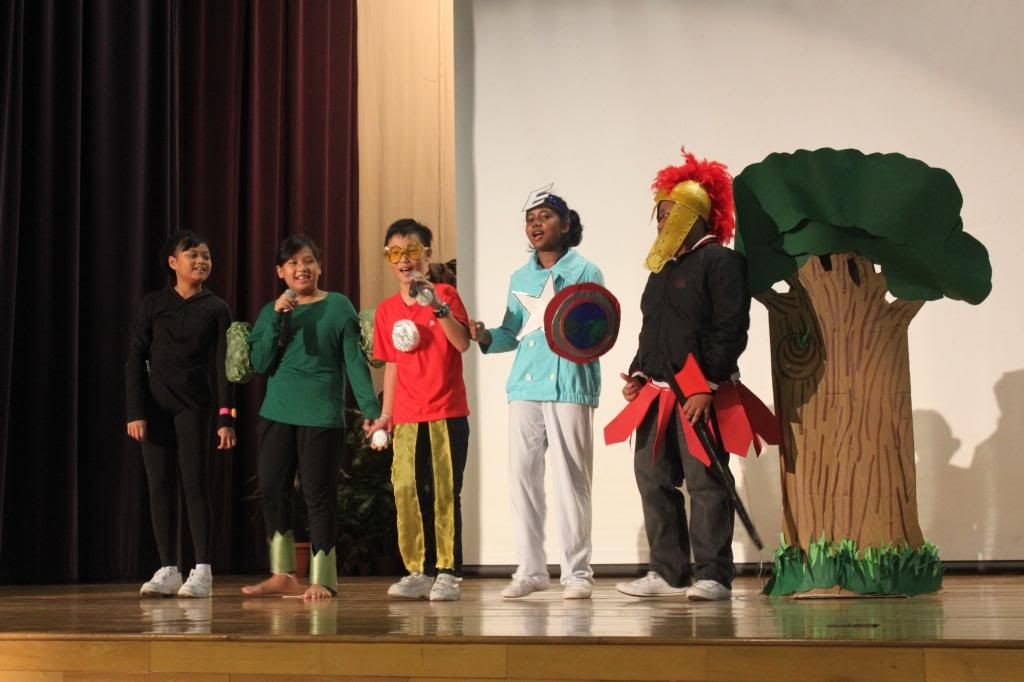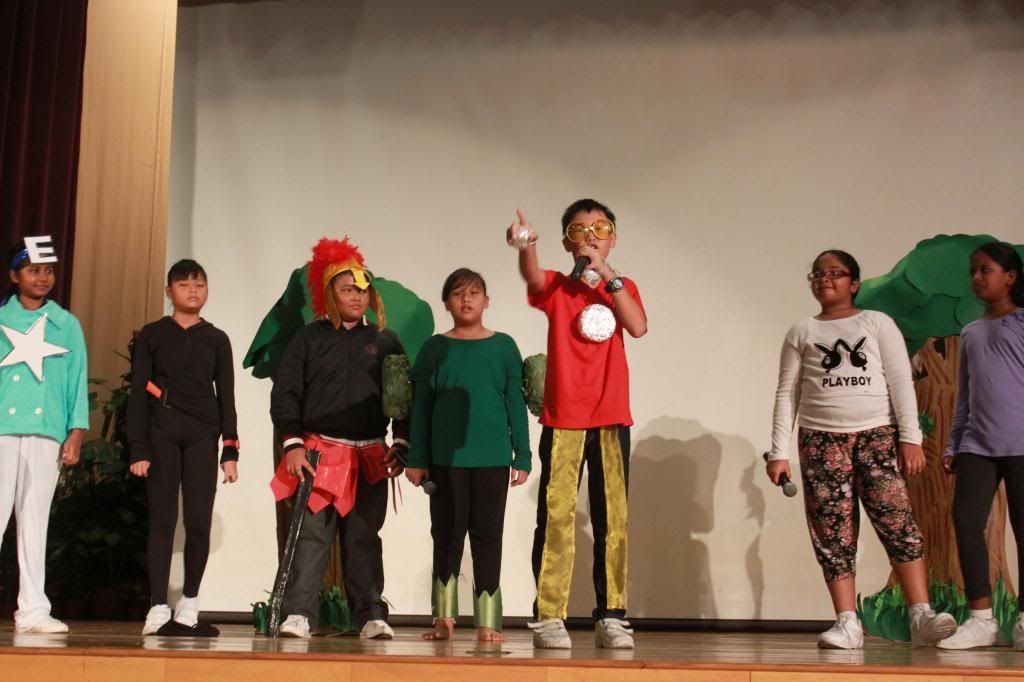 Cyber Safety Story Telling Performance
Our P3 students had their maiden performance in school during morning assembly on Friday 19 April. Their story which was brainstormed and written together with our teachers unfolds a story of 'Bella' who is unfamiliar with online safety and later learn useful life lessons on cyber safety in all social media.
Through this performance, our P3 pupils gained confidence and are exposed to different ways and types of story telling art.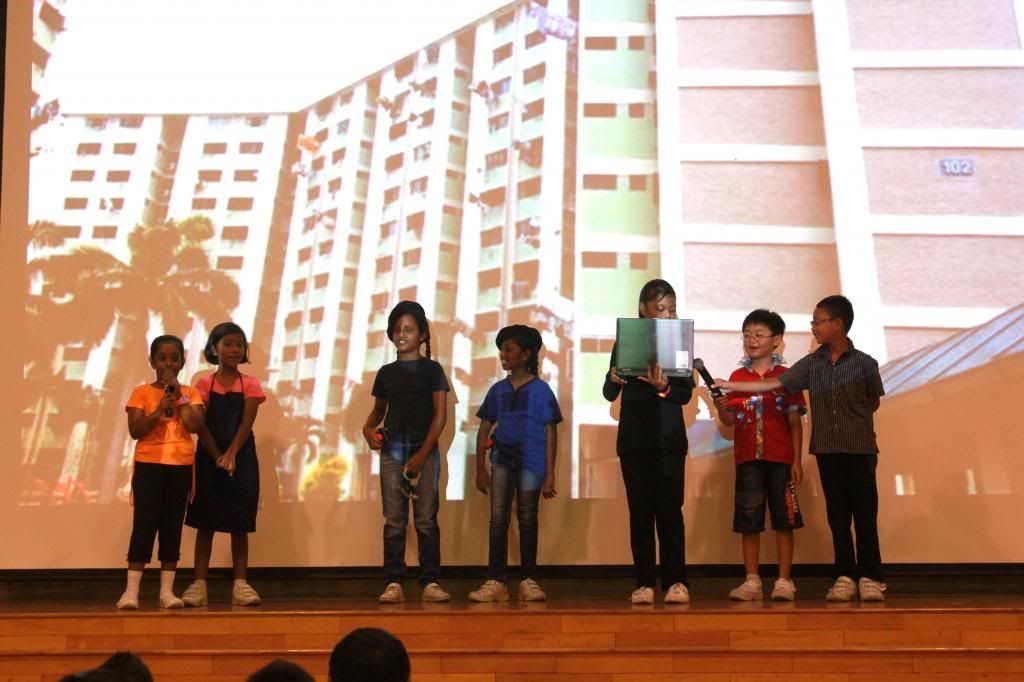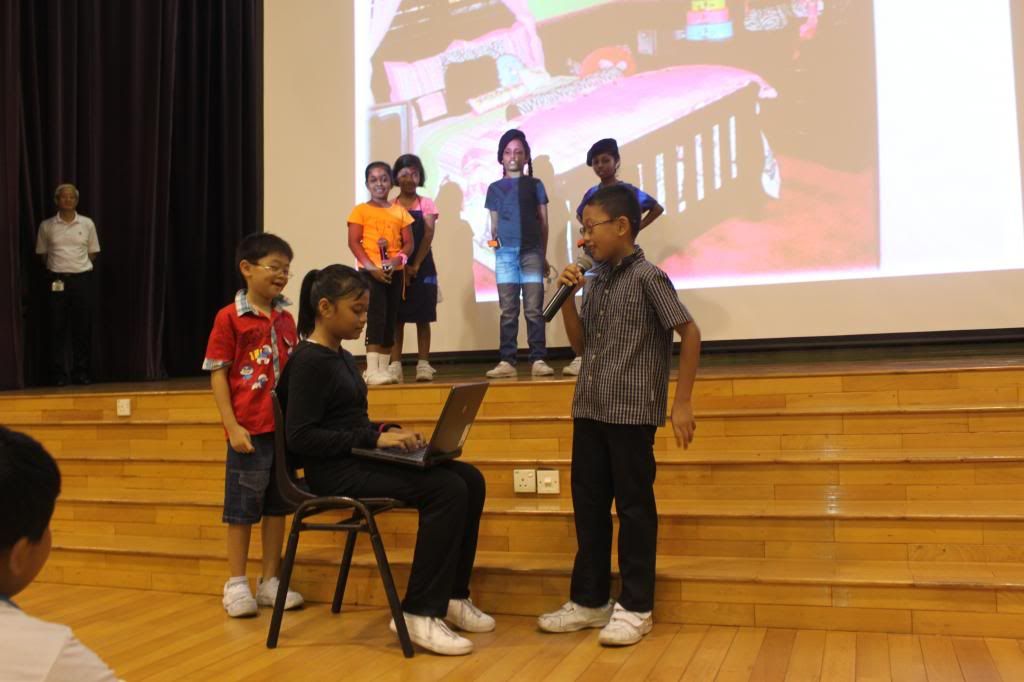 Total Defence Day 2013
Will You Stand With Me?
An abstract piece by the Primary 4 to Primary 5 ELDS members depicts the
emotions and reactions after war and how, with the aid of
Total Defence: Psychological, Social, Economic, Civil and Military
the war victims regained power and strength to stand together as one united people.
CCA Open House 2013
Thank you for dropping by our booth and showing interest in ELDS.
We do hope to meet our new members on
Friday 1 February 2013
once the CCA allocation has been finalize.
We will be issuing the consent forms soon.
If you missed some of the actions that had happened,
here are some photos and a video!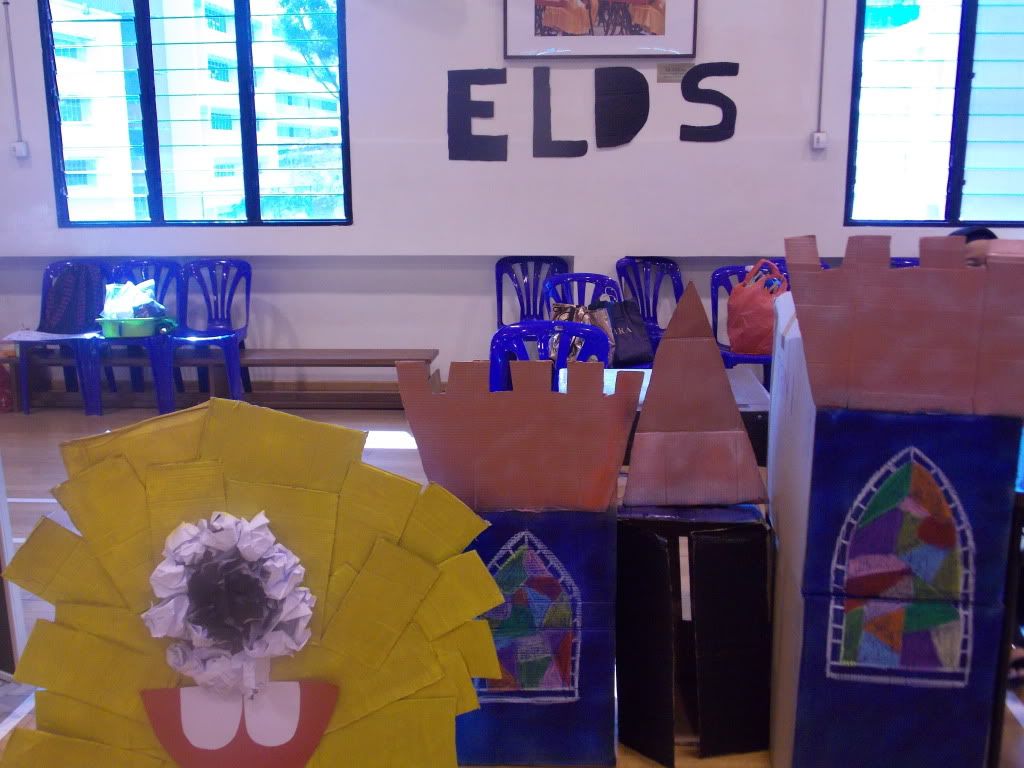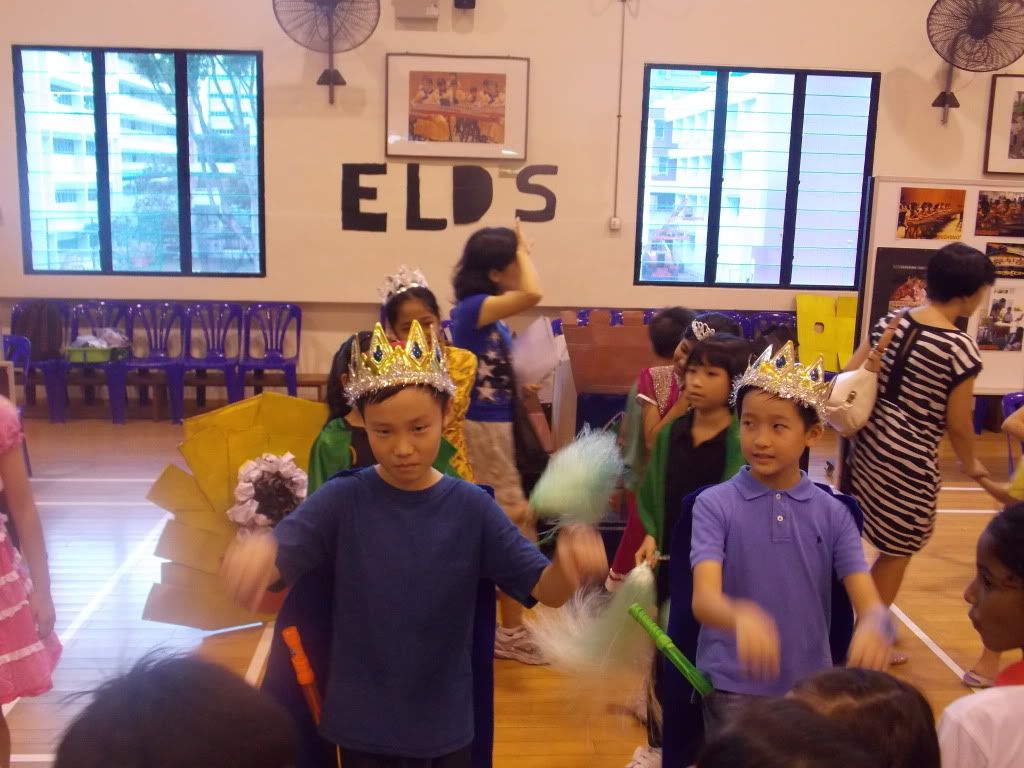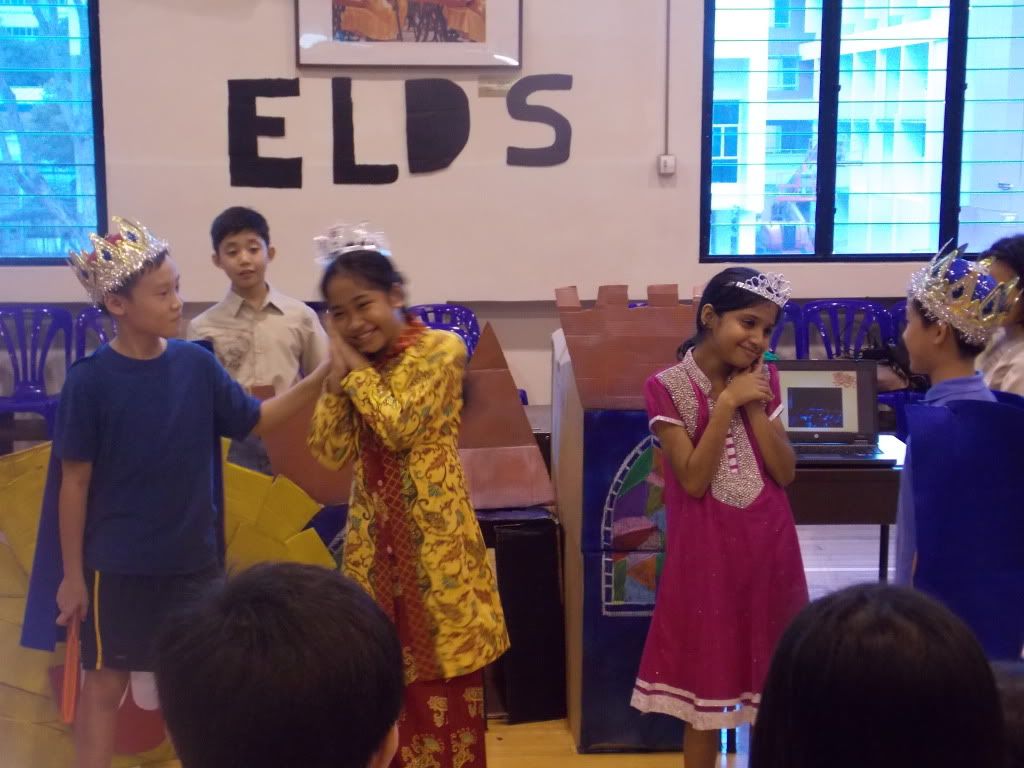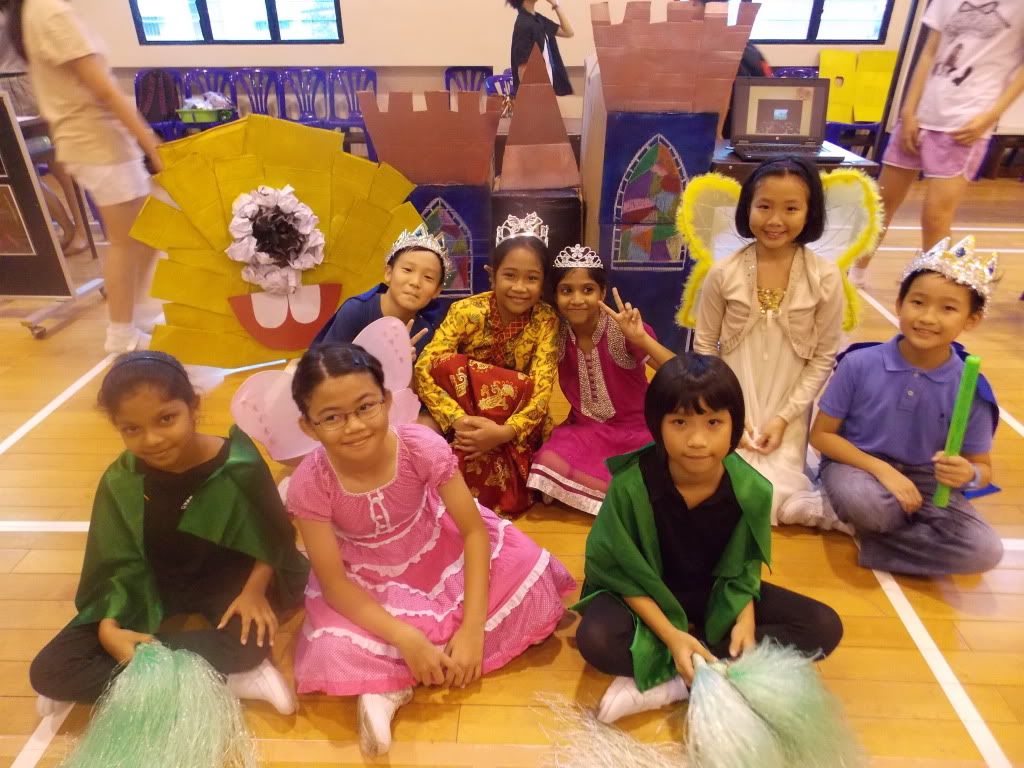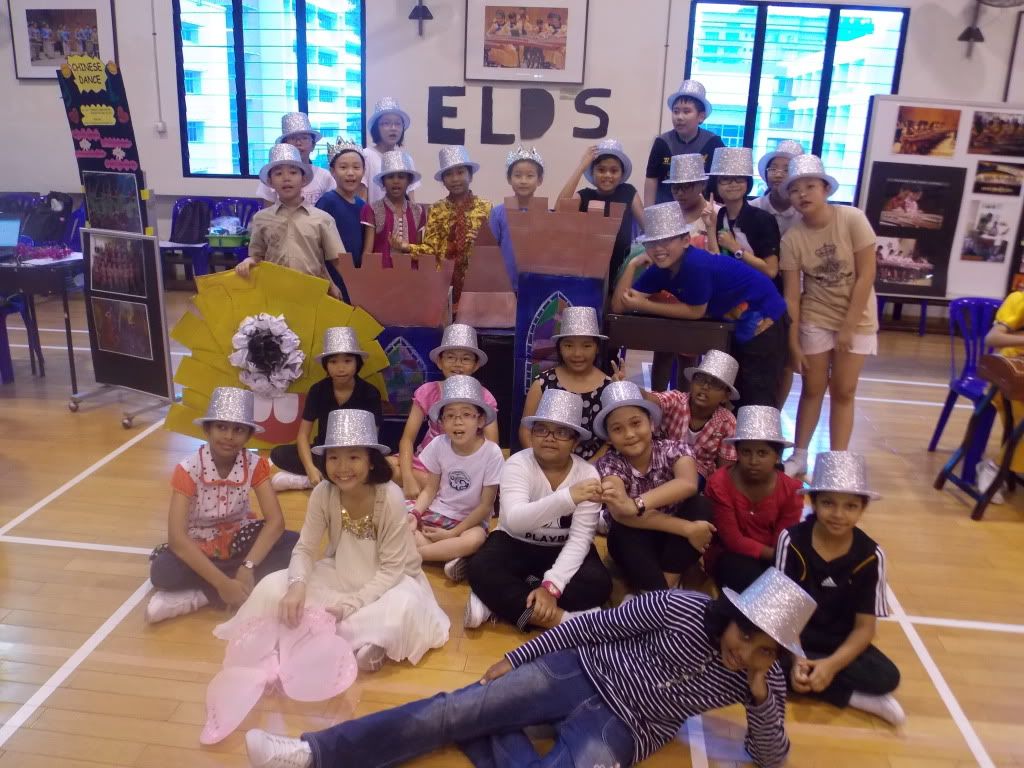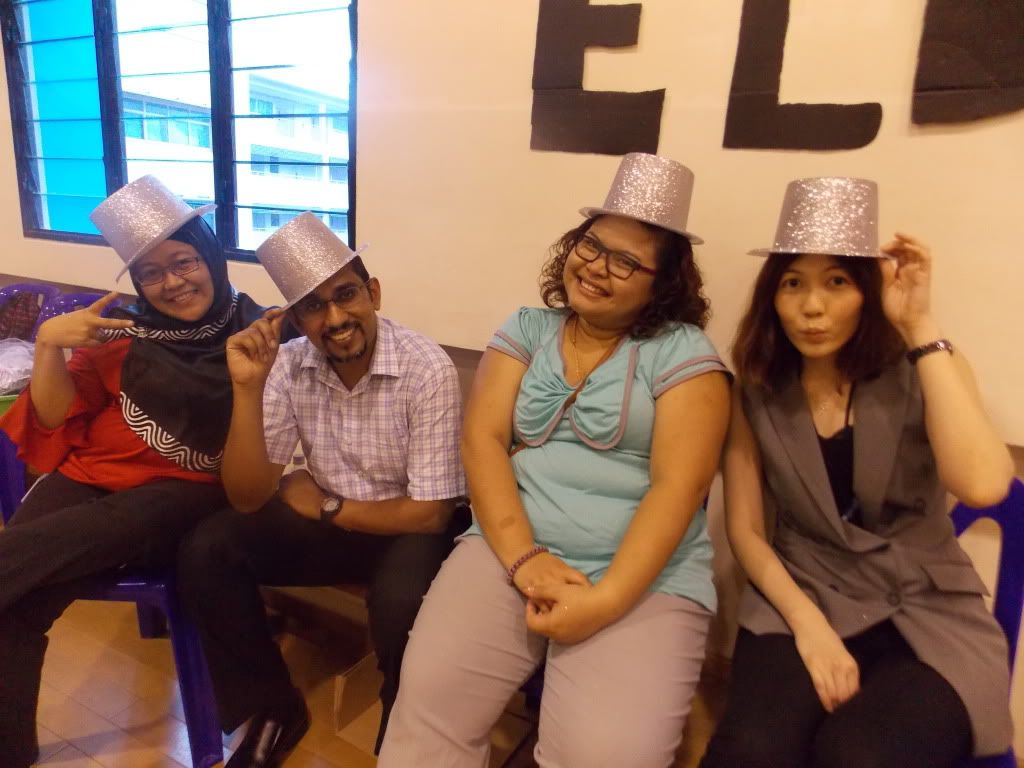 CCA Sustainability Award 2013
These P6 pupils have stay commited and passionate through out their 3 years membership in ELDS and we would like to credit and congratulate them with a BRONZE award for all their time and effort. Keep the drama spirit burning!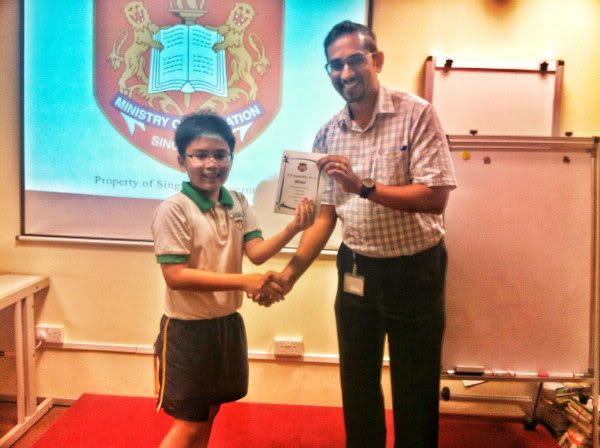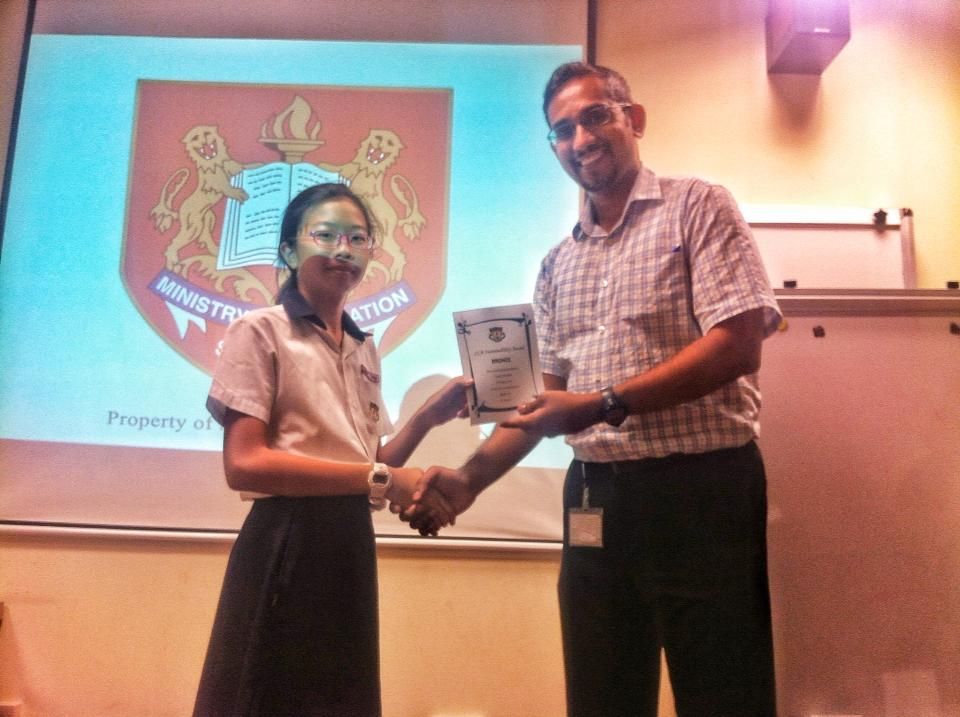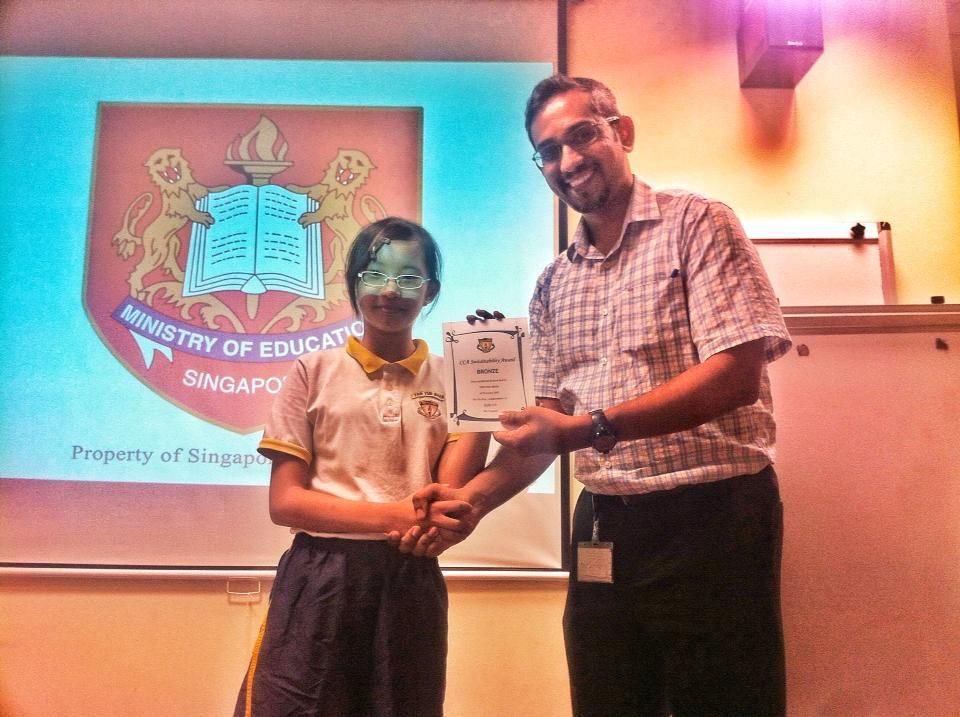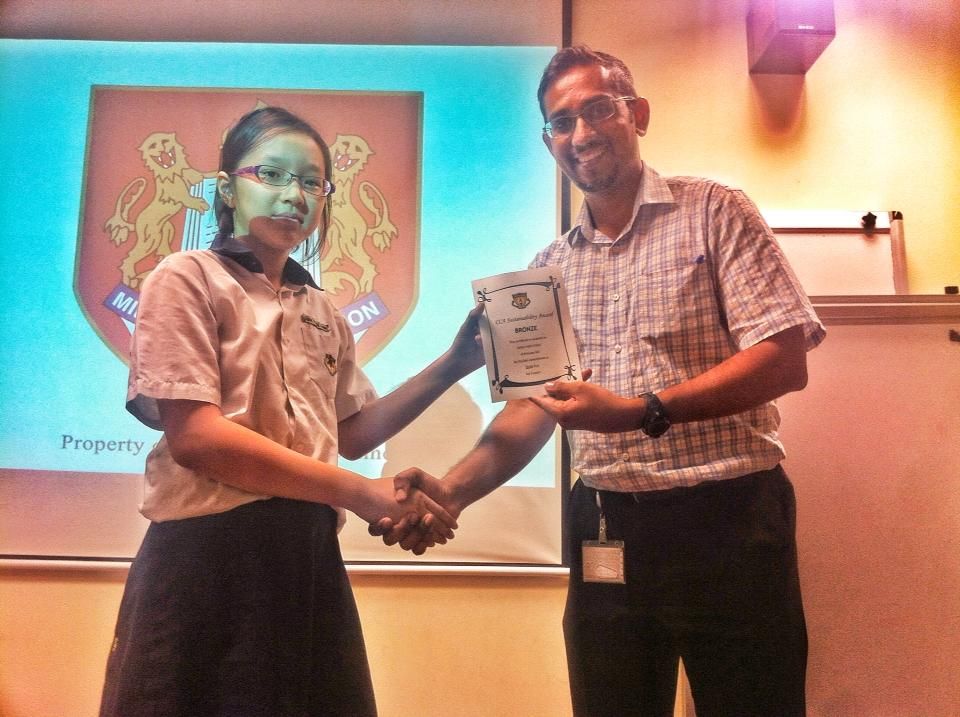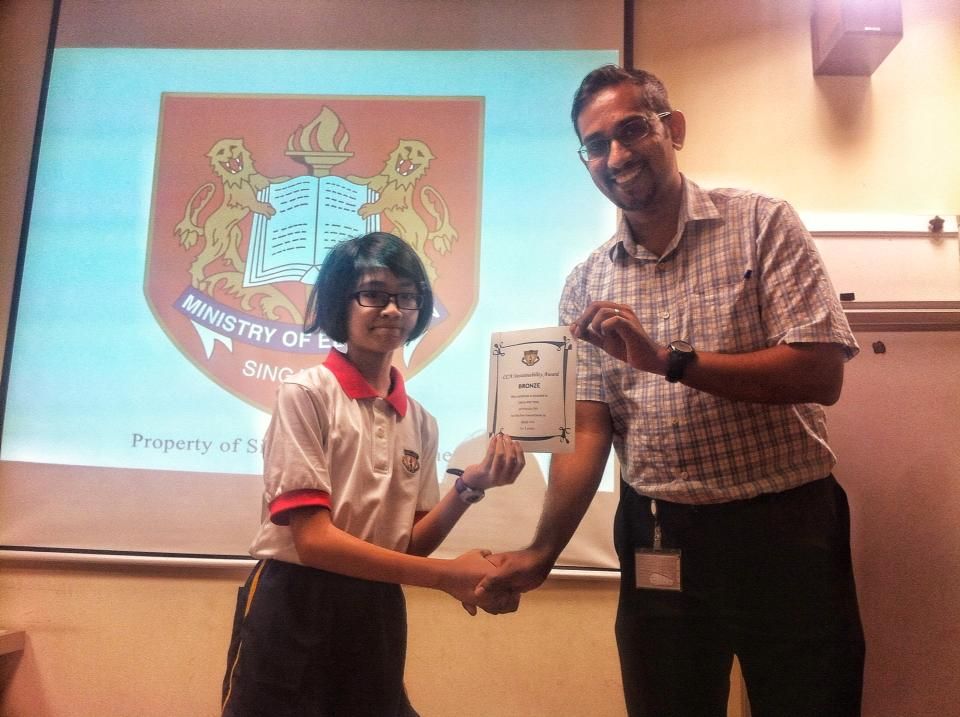 Dangers of Cyber Contacts
Teachers' Day Performance : Angel in Disguise
Racial Harmony Day (Racial Riot)
New Teacher on the Block
This semester, we welcome Miss Quek Si Ying, a new teacher who will be conducting ELDS session together wth the rest of the ELDS teachers.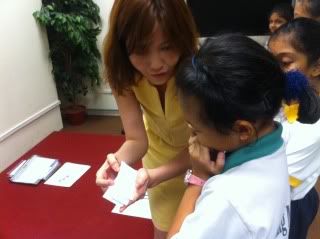 Miss Quek, given some instructions to her ice breaker game.
Shell Singapore Youth Science Festival (SSYSF) Stage! Drama Competition
On 23 March 2012, 30 of our ELDS pupils participated in Shell Singapore Youth Science Festival – SSYSF Stage! Drama Competition which was held at Science Centre Singapore. The pupils had to perform a 7-minute skit based on the theme, 'Renewable Energy for Everyone' in accordance with 2012 being the "International Year of Sustainable Energy for All".
The storyline of our skit was about a boy having sequence of thoughts to have renewable energy in Singapore which eventually came true. During the preparation process, we had to build and design props and costumes that are made from environmentally friendly or recycled material.
Although we did not win any prizes, it was a memorable experience because it was our first time participating in a national competition and working together towards a common goal.
30 proud participants after their performance.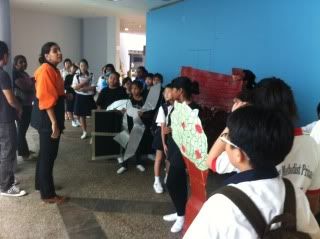 Briefing and instructions from organizers.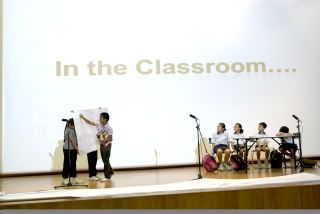 Mr Ash teaching his students on Renewable Energy.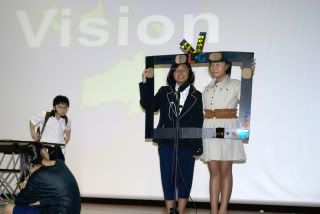 One of our hand-made prop, a big television screen for our newscasters.
Bob first acquainted with the farmers who taught him more on Solar Energy.
Solar Panels and Windmills, part of the Renewable Energy available.
Intellectual Property on Air!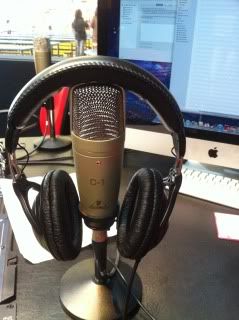 8 specially selected pupils from ELDS had the first hand opportunity to broadcast 'LIVE' in our very own school Air Studio during different level recesses on the topic of Intellectual Property during Cyber-Wellness Week. These pupils indeed have amazed their fellow friends with their ability to convey the topic confidently.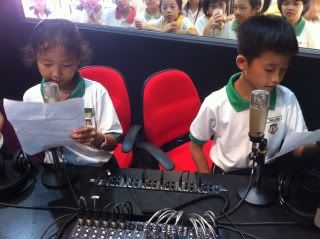 Our P3 junior presenters, young and confident.
Rachel (left) and Li Hon (right)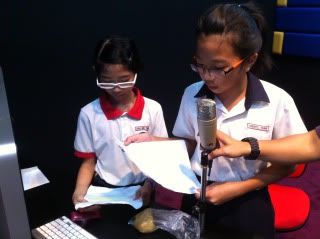 P5 presenters, Wei Ting (left) and Cheryl (right).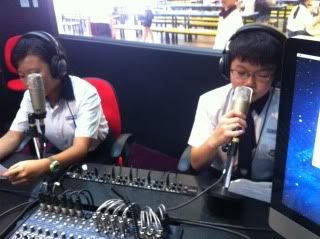 Proud P6 presenters, Gerlin (left) and Gabriel (right),who had the chance to
use the Air Studio for the first and last time before they graduate.
Mime Act - My Wish